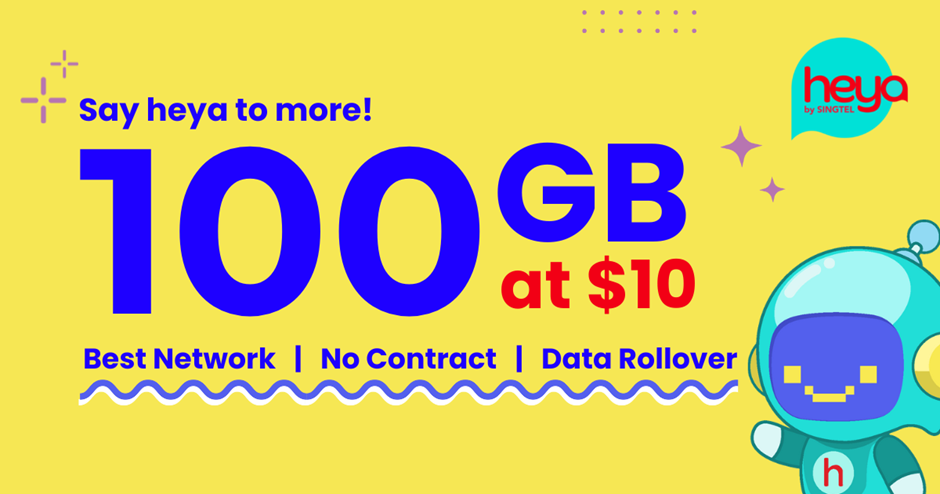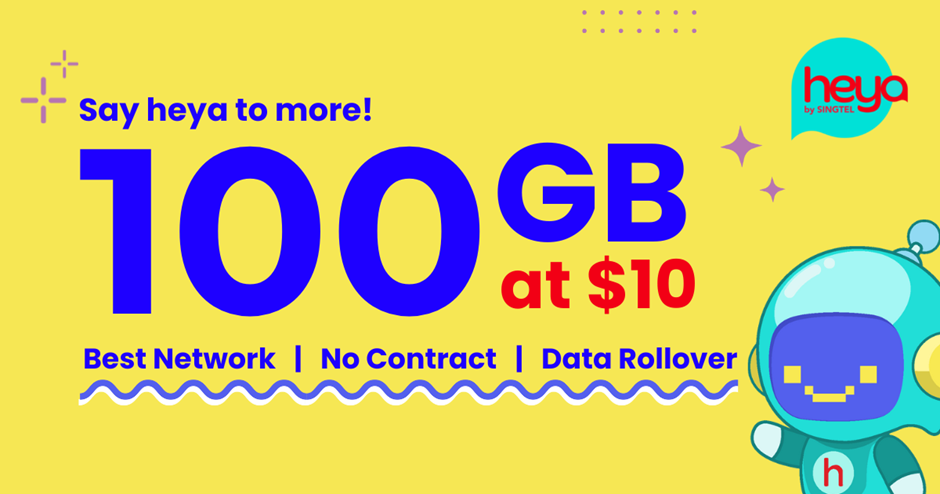 In this day and age, there's no doubt that mobile phones and plans have become an integral part of our daily lives.
Especially mobile data. Because waiting until you get home to watch the latest episode of your Korean drama is so 2013.
And if you're looking for the next best plan in Singapore to get your data fix, heya's got you covered with their mobile plan which is supported by the best network, Singtel!
If you're not convinced, here's something that'll definitely get you on board: 100GB of data for just $10.
Yup, that's like becoming a "mobile data millionaire" with just two cups of bubble tea's worth of money.
If you're already intrigued, here's even better news: There's no contract at all, and you can even top up and rollover up to 200GB worth of data per month. Even if you're a "mobile data millionaire", it doesn't hurt to save your data and rollover to the next month, just in case.
And here's what you need to know about the heya mobile data plan that'll definitely leave you saying, "heya, let's go and get that plan" after you finish reading this article.
About the heya Mobile Plan
As a 4G Postpaid SIM-only mobile plan, you won't have to worry about being bonded to a contract with heya as it doesn't have a contract.
Of course, there's no reason why anyone would give up 100GB of mobile data for just $10.
The plan also features a free data rollover function, meaning that any data you don't use in a particular month will be "rolled over" to the next month.
Additionally, the plan is fully supported by Singtel, Singapore's fastest and widest telco network.
It's also worth noting that no excess charges will be incurred by heya until you fully utilise your plan, which is definitely a lifesaver for those months when you can't seem to finish your mobile plan but don't want to feel like your mobile plan is "going to waste".
What is Included in the heya Plan
For the heya plan, each user will be entitled to 100GB of mobile data at $10, 300 local mins of call time, 50 local SMSes, free incoming calls and free caller ID.
Data Rollover
Data rollover is really a great feature! You won't have to worry about "losing out" as your untouched data is not wasted.
So don't fret if you're unable to use up your data in a month – you can always rollover your data! If you keep finding yourself with leftover data each month, you can rollover and reach up to 200GB per month.
Here's how data rollover works:
Strong Connection Everywhere, Even in the MRT
heya is supported by Singtel, so even when you're underground in an MRT tunnel or at the basement floors of a shopping mall, you'll enjoy good connection. It's especially important to have a good connection when travelling via public transportation like the MRT as that's where you'll whip out your phone and play mobile games, watch videos and chat with your friends on WhatsApp!
What Users Have to Say
And here's what heya users have to say about the heya mobile plan.
Apart from the impressive rate of getting 100GB of mobile data for just $10, users have said that the data speed is also exceptional.
Several users added that the speed of mobile data doesn't decrease when users are underground, which is perfect for all the drama episodes that many of us catch up on while we're in the MRT carriages that run on underground tracks.
"In MRT and underground[,] my video doesn't lag[,] and the speed is fast," one user commented.
And if you're the kind of person who has spent a decade trying to remember your phone number, you don't have to worry about spending another ten years trying to do so after transferring your mobile plan to heya.
In fact, you can keep your existing mobile number if your current mobile plan is not from Singtel.
To do so, you just have to indicate your existing mobile number when signing up for a heya plan, and heya will help you take care of everything else.
Any mobile number can be transferred to heya as long as it is an active postpaid mobile line with no outstanding payments and is registered under your NRIC/FIN with your telco.
Additionally, users who intend to transfer their mobile phone numbers must request to port out from their existing telco at least seven days before their next billing cycle.
For more information, check out heya's Frequently Asked Questions (FAQs) here.
You Can Even Top Up Your Plan with Your Phone
There's even a heya mobile app that makes it easy to manage your account on the go. Using the app, you can check your account balance, monitor your usage and top up your heya plan with wallet credits. You can replenish your wallet credits through heya retailers and top up 3 to 6 months' worth of wallet credits at one go, so you can top up the $10 heya plan (100GB) anytime from your wallet credits.
You can download the heya app on the Google Playstore and Apple App store.
Alternatively, users can also choose to top up their plan by visiting heya's Authorised Retailers directly.
Top-ups are also available on heya's official Shopee and Lazada platforms.
IDD Call Add-ons Available at Just $5
And if you're looking to connect with your loved ones (or LDR partner) overseas, International Direct Dialling (IDD) add-ons are also up for grabs at heya!
For just $5 per add-on, users can make up to 500 IDD minutes to 9 destinations!
If you're wondering, the countries heya covers in its IDD call destinations are Bangladesh, China, India, Indonesia, Malaysia, Myanmar, Philippines, Thailand and Vietnam.
Each user can purchase up to four IDD add-ons simultaneously, so you'll have plenty of talktime with your loved ones overseas!
The $5 credit will be valid for 30 days from the date of purchase, and all the call charges will be deducted from the $5 credit on a per-minute basis.
However, do note that this add-on does not cover global SMSes.
IDD add-ons are available for purchase at heya authorised retailers and, of course, the heya app!
How to Sign Up for the heya Plan
To sign up for a heya mobile plan, just bring any of the following physical ID documents in their original form to a heya authorised retailer:
Singapore NRIC / 11BPassportEmployment PassS PassWork PermitDependent PassStudent PassSocial Visit Pass
Do note that you must be at least 18 years old to sign up for a plan and that your ID documents must be valid for at least six months.
The complete list of authorised retailers for the heya mobile plan can be found here.
So what are you waiting for? Head down to one of heya's authorised retailers today to be a true "data millionaire" from here onwards.
Apart from that, follow heya's Facebook account and Instagram account to ensure you never miss out on any promotions or deals!
This article was first published on Goody Feed and written in collaboration with Singtel.