Are both sides of your pillow suspiciously warm at night? Does your battered bolster look like it needs a replacement? Looking for a brand-new bed or sofa to snuggle in after a new move?
It's time to stop by King Koil Annual Warehouse Sale to secure all of your furniture and bedding needs at extraordinarily low prices.
King Koil Annual Warehouse Sale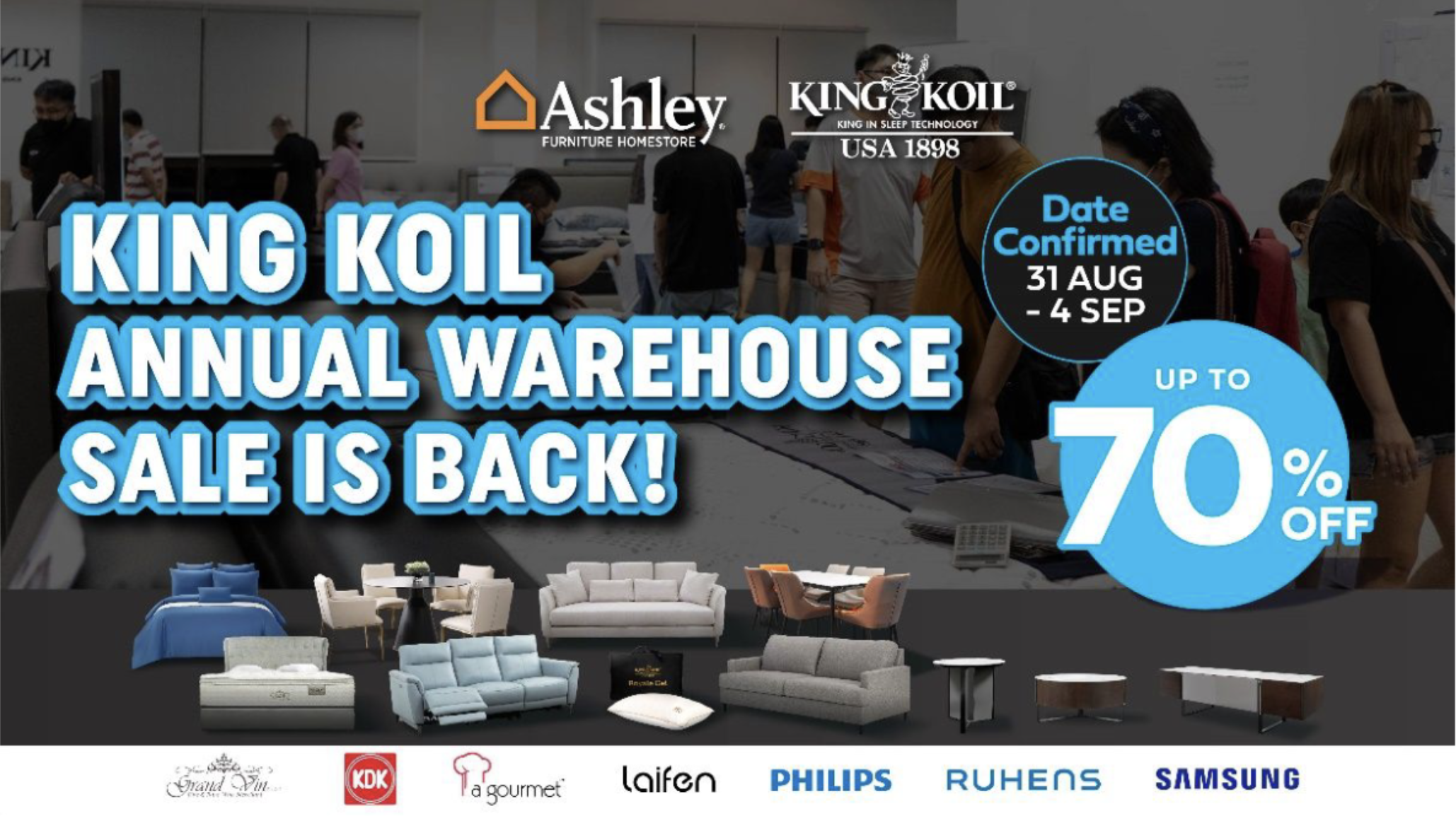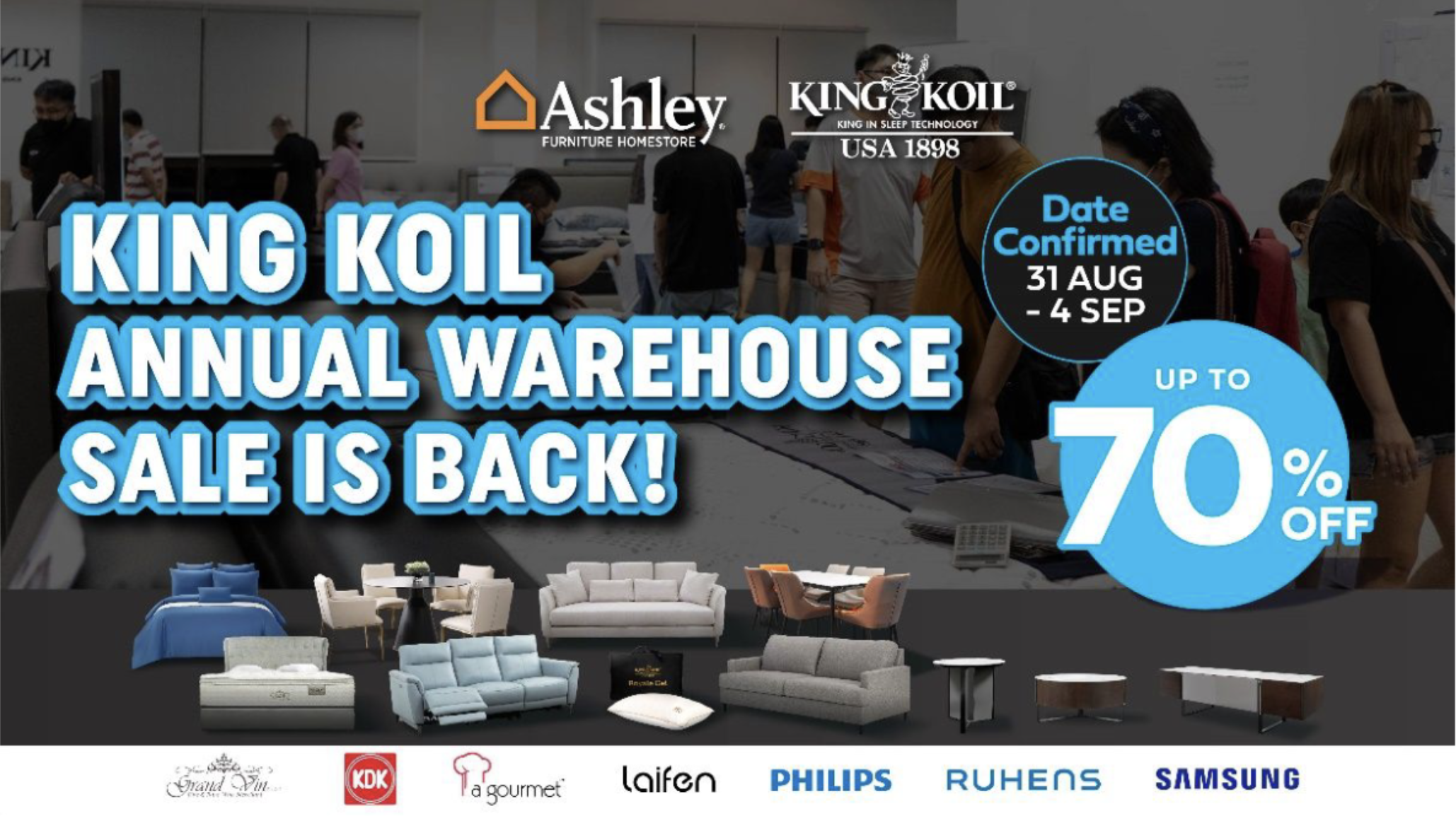 A definite highlight of the biggest sale of the year is the offers of up to 70% off for its extensive range of products. 
Items from its colourful promotional catalogue include an extensive range of linens, beddings, sofas, bolsters, mattresses & electronic appliances to satisfy the needs of every single customer. 
The sale lasts from 31 August to 4 September 2023, with operating hours from 10am to 9pm, so make sure to mark your calendars to prevent yourselves from missing out on this event!
The main event will be held at King Koil's Headquarters (13 Sungei Kadut Way, Matsushita House, Singapore 728792), but make sure to pay a visit to King Koil's other retail galleries at Alexandra Megastore, Genting Lane, Marina Square and Sungei Kadut Drive. 
Magnificent Mattresses For A Good Night's Sleep
When one thinks of King Koil, they usually think about their soft and fluffy mattresses. Here are some reasons why King Koil Mattresses stand out from the rest of the competition:
5-zone pocketed spring systems
Wonder why you can just sink into King Koil's cosy mattresses and feel rejuvenated the next day? King Koil mattresses use individually pocketed springs in 5 different contour zones that offer more support to the body than open-coiled springs.
Since each individual spring moves independently from each other, they form a snug fit around all contours of the body, enhancing comfort and providing much-needed support to minimise back pain. 
Excellent Edge® foam encasement 
King Koil's trademarked encasement improves the stability of its mattresses, maximising the sleeping surface of the bed. Say goodbye to painful nights of accidentally rolling off your bed as King Koil mattresses have you covered!
Natural Latex 
King Koil mattresses are made of 100% natural latex. Compared to typical memory foam beds, natural latex provides greater comfort that hugs the body. 
Natural latex also diminishes heat and moisture retention, allowing you to feel cool as a cucumber on the hottest nights. 
Moreover, you don't have to worry about any pesky allergies flaring up, as natural latex is breathable, antimicrobial and hypoallergenic.
Micro-Gel® 
Do you love the feeling of being encased in a mattress of fluffy feathers but hate the hassle of cleaning them up? Made in Korea, King Koil's Micro-Gel® is an exact match for the fluffiness and airiness of a natural goose-down mattress.
What's more, King Koil provides two types of mattress materials that you can customise your mattresses with Eucalyptus and Bamboo. 
While you may imagine eucalyptus and bamboo as the food that cute koalas and pandas eat, these two materials are a godsend in helping you beat the hot and humid weather that causes sleepless nights. 
Eucalyptus fibres improve the softness of mattresses while providing superior temperature regulation and breathability. Bamboo, on the other hand, works wonders in helping the body stay cool in warm weather and warm in cold weather. Bamboo is also hypoallergenic and has deodorising properties that will further improve your quality of sleep. 
Bouncy Bolsters for Maximum Cuddles
For those looking for a replacement for worn-out pillows and bolsters, there's no need to fret as King Koil is offering its Stylemaster Simple Collection of bolsters, protectors and pillows from a low price of $22 to $39!
In collaboration with Ashley Furniture Homestore, King Koil is providing a range of discounted sofas ranging from half-leather to full-leather designs. There are also sofas with reclining seats if you want to kick back and relax in your living room. 
Additional Perks and Offers
In addition to all the amazing deals mentioned above, there are additional opportunities to save a little extra on top of their Warehouse Sale Special:
Extra 5% Off for PAssion Card & UOB Cardmembers*
Extra 5% Off on Linen, Bedding & Home Accessories (with a minimum purchase of $500)*
Extra 10% Off on Mattress, Sofa & Furniture (with a minimum purchase of $1,000)*
Free delivery services are also available for all mattress, sofa, and furniture purchases with a minimum spend of $500 and above. 
Terms and conditions apply.
How To Get There
To maximise the ease of your trip down to King Koil's HQ, take the free King Koil shuttle bus at Yew Tee MRT located at Exit C. 
Event Date: 31 August to 4 September 2023
Event Time: 10am to 9pm
Location: King Koil HQ – 13 Sungei Kadut Way, Matsushita House, S728792
This article was first published on Goody Feed and written in collaboration with King Koil.