During childhood and adolescence, my family had always celebrated Mother's Day at family restaurants. My parents were working blue-collar jobs, which meant that we didn't have much to splurge on fancy meals—Mother's Days were the few days that my dad would spend almost a few days' salary on a meal.
Times have changed now; my mother's two kids are out of school and working full-time, earning more than them, which means it's time for us, the grown-ups who would always be kids in my mother's eyes, to take over the bills.
And this year, it's a tad different, because going to restaurants is so pre-pandemic.
The Plan 
Ever since the pandemic, my mother has taken a liking to catered meals.
Won't be surprised if your mother is feeling the same.
She dislikes the mad hustle of restaurants during the peak hours and instead prefers the warmth and familiarity of our home. Of course, the problem could also be solved by booking private dining family rooms in said restaurants, but she stubbornly asserts that home is better. Having it at home means there's no cap on the number of people invited, and most importantly, even when we've earn enough to treat her five times a month, she'd still want to help us save money.
And you never argue with your mother.
To make up for not dining out, we made sure the food has to be stellar.
Two criteria are important to me: the menu and the caterer.
The first step is to decide what kind of meal to cater. I usually start by asking my mum what she would like to eat, but I also like to surprise her with something special by ensuring the package incorporates not only dishes my mum enjoys but also dishes she may not have tried before.
Secondly, the caterer, of course, has to provide the kind of meal I have in mind, but should also be reliable and provides high-quality food. I mean, imagine waiting hours for the food come…only to have them delivered on time.
On Father's Day instead.
This year, she stated that she wanted to have Chinese cuisine, but of course, with me wanting to go above and beyond, and with Stamford Catering Services offering to let us try out their Mother Day's Promotion, we decided to opt for Stamford's Catering's Mother's Day Party Set C, which is for 8 to 10 people.
Okay, we're only a family of four, but there are no rules that say we can't eat for two, right?
Now, other than the fact that Stamford Catering is so well-established that the Internet would be on fire if I made a complaint online about their service, they've the atas food that somehow looks expensive yet isn't that expensive.
Perfect way to convince a mother.
Here are the dishes lest you're already hungry: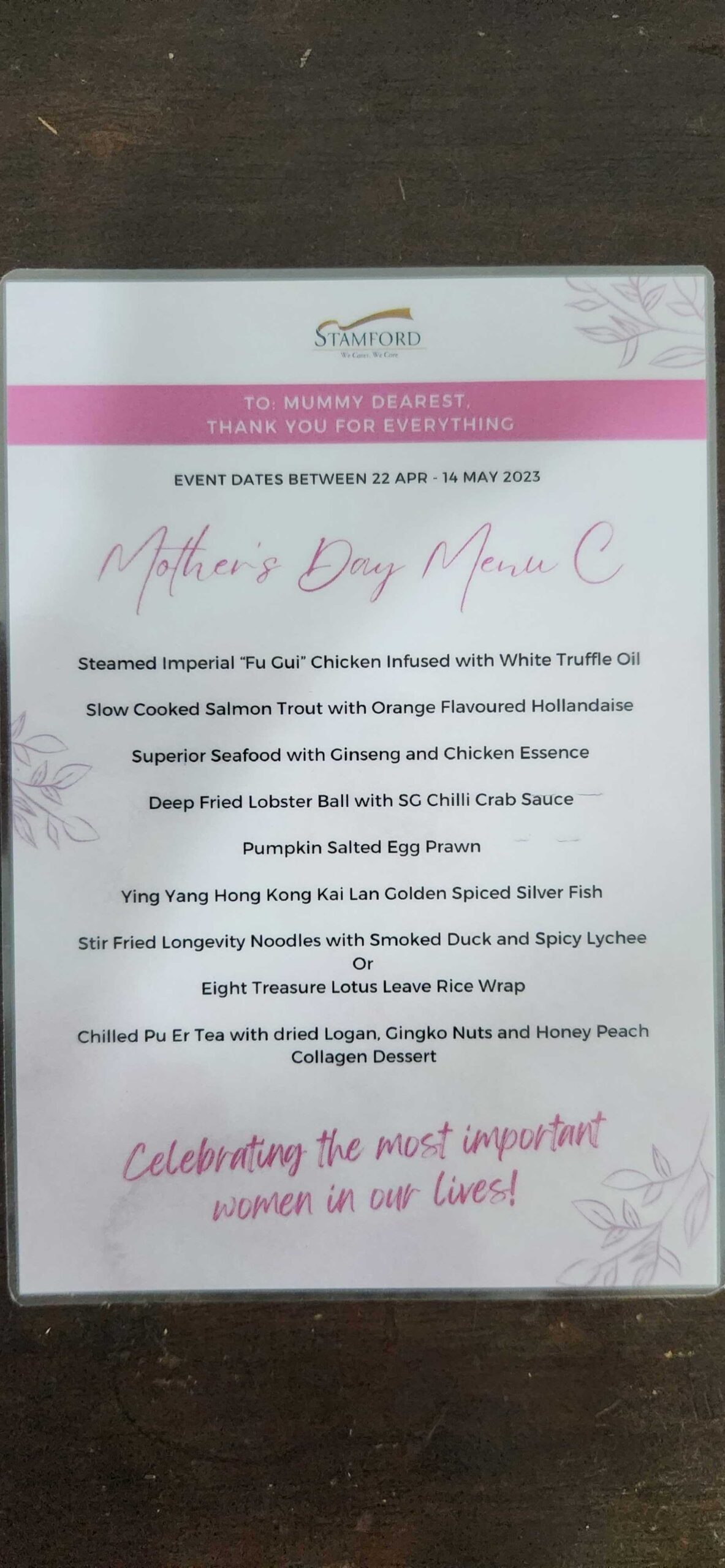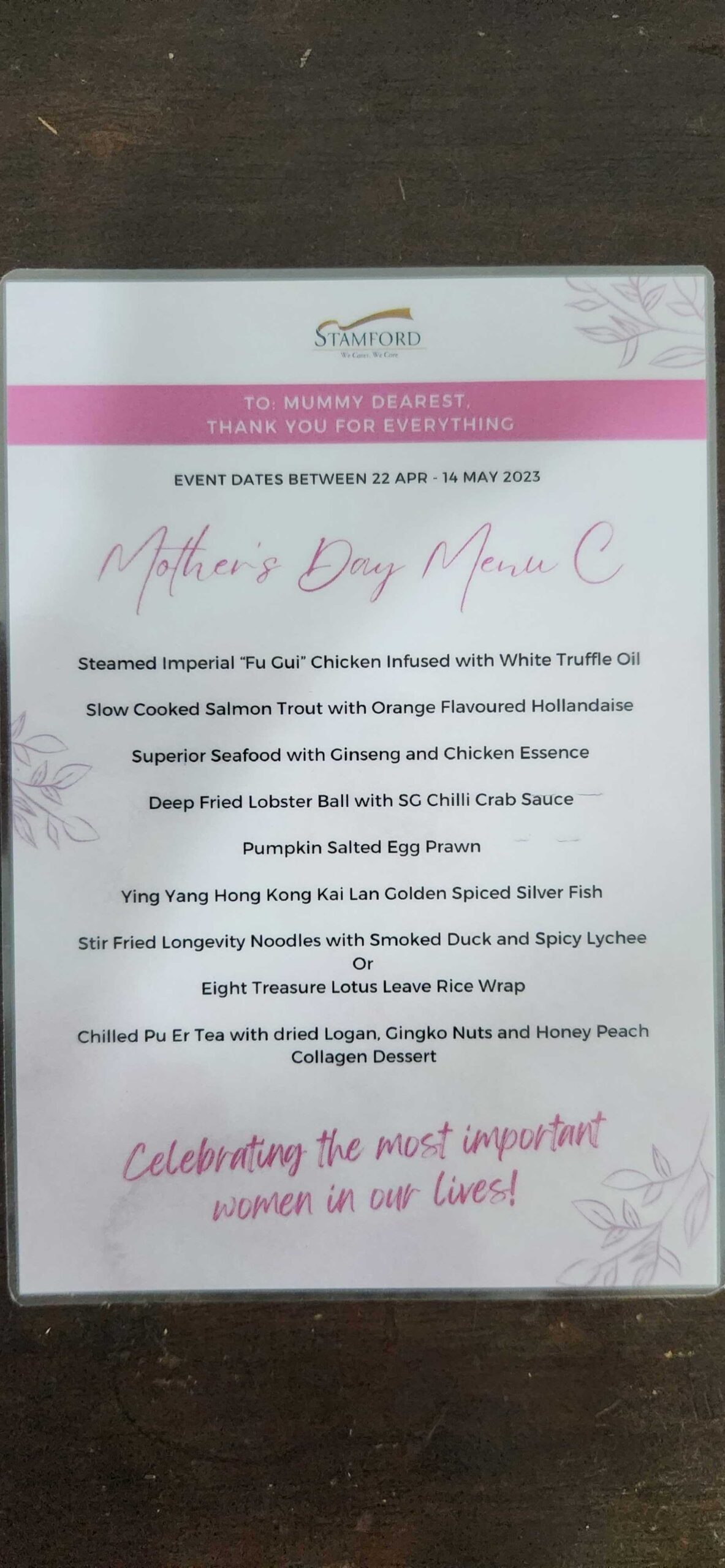 How the Celebration Goes
The first impression matters, and Stamford Catering came through with that. We had scheduled the delivery time to be at 5 pm, but the delivery came earlier at 4:30 pm.
After hearing about all the horror stories of food being delivered late or even not at all, this early surprise was much appreciated, since we need time to set up (the one that we tried required us to set up ourselves).
But no worries about the set-up: The food and cutleries were neatly packed into three bags; all we had to do was to set up and display the food.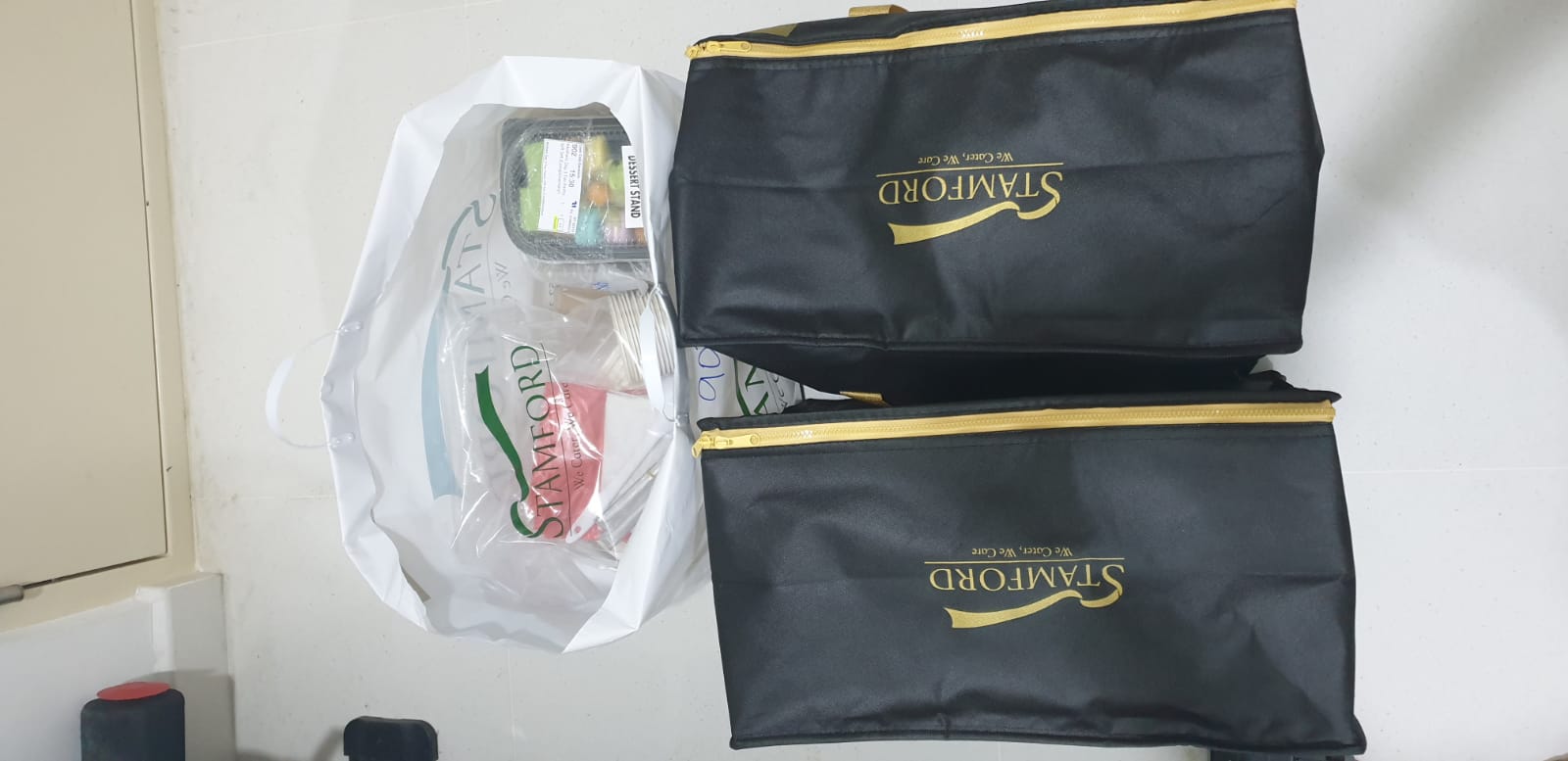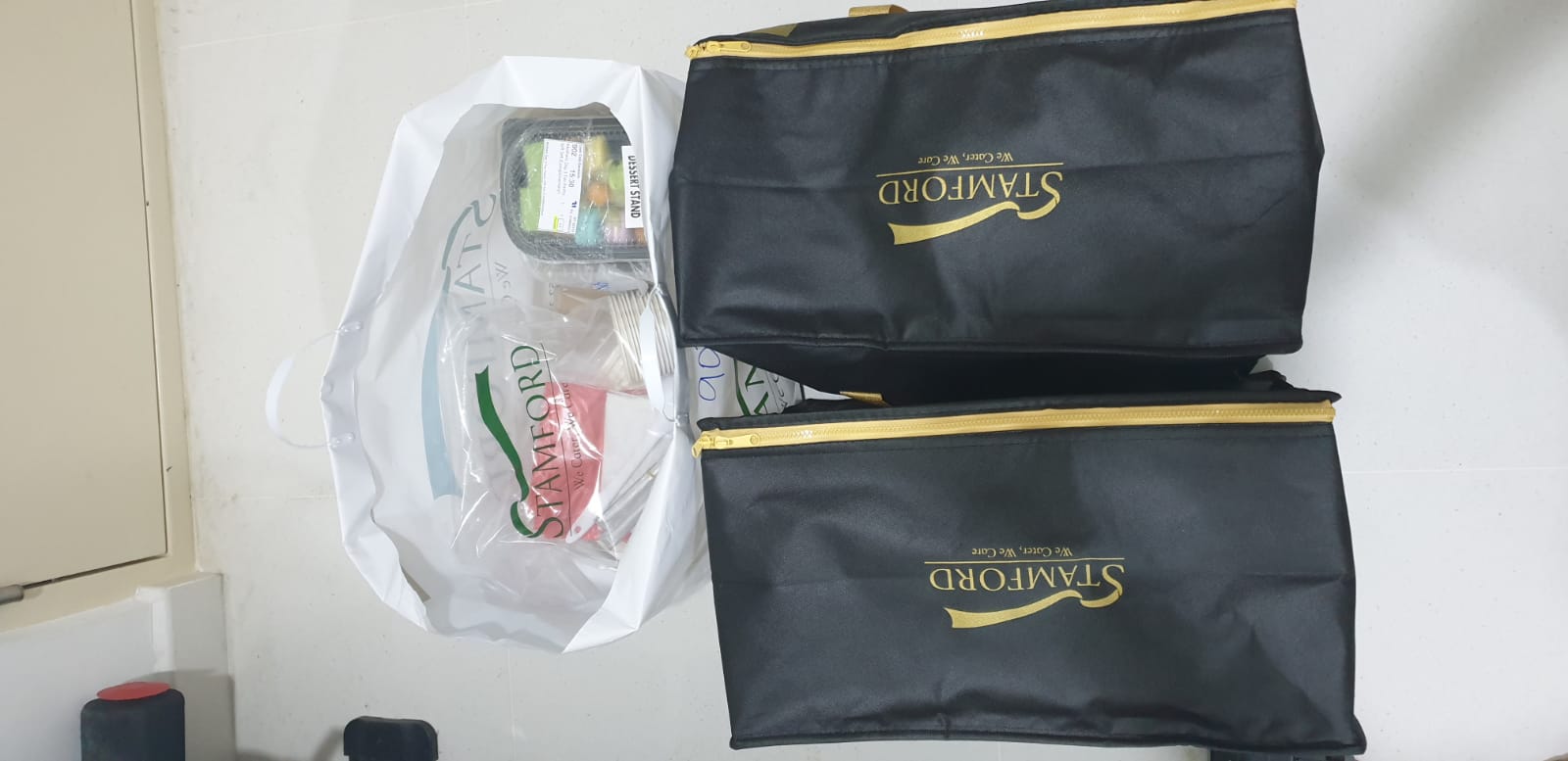 My tip? Make sure you've cleared a space for the food before displaying them, and do ensure that you leave some leeway. I learned it the hard way when I realised I had to clear more space every five minutes, thinking that that's the last pack.
Now to the highlight of the article: the food.
One word: Unforgettable.
Firstly, the Steamed Chicken Infused with Truffle Oil.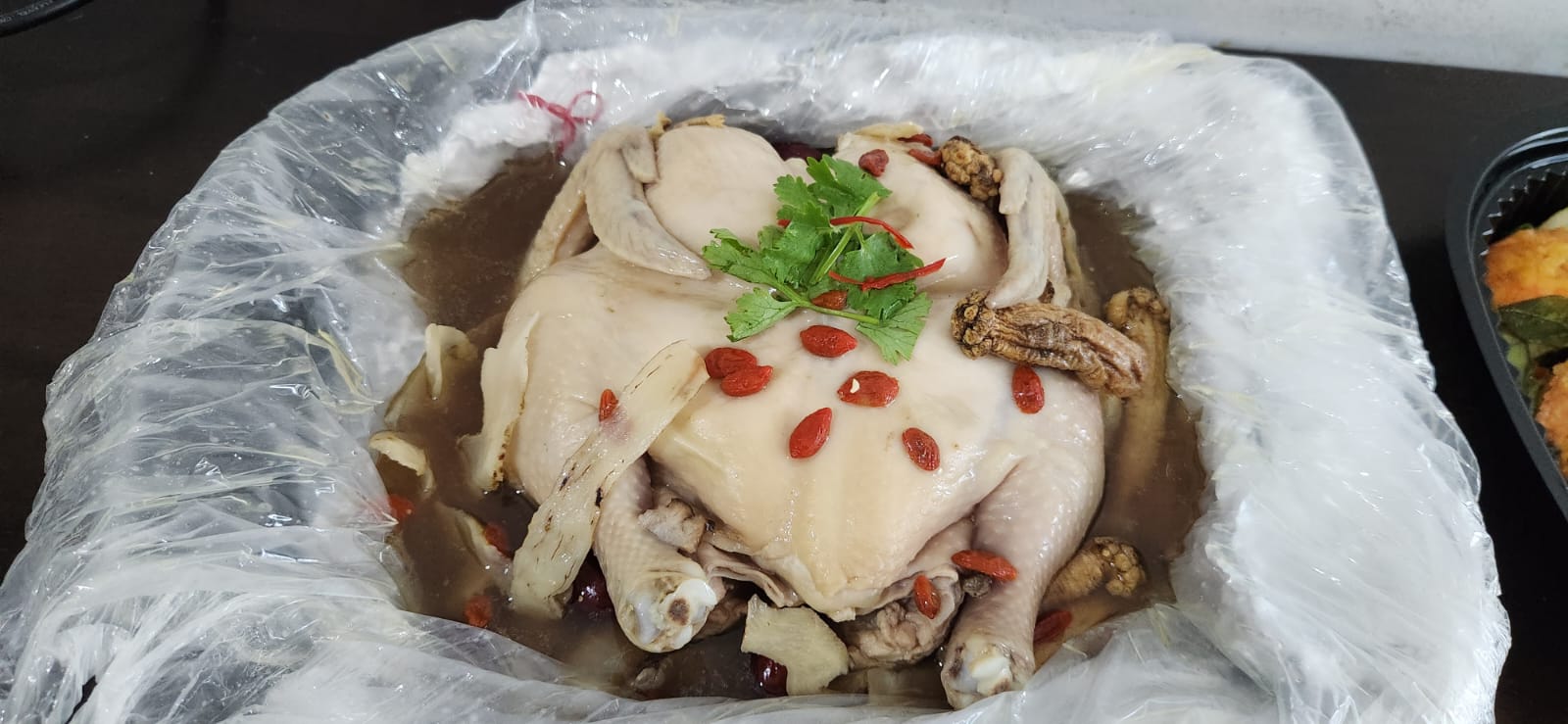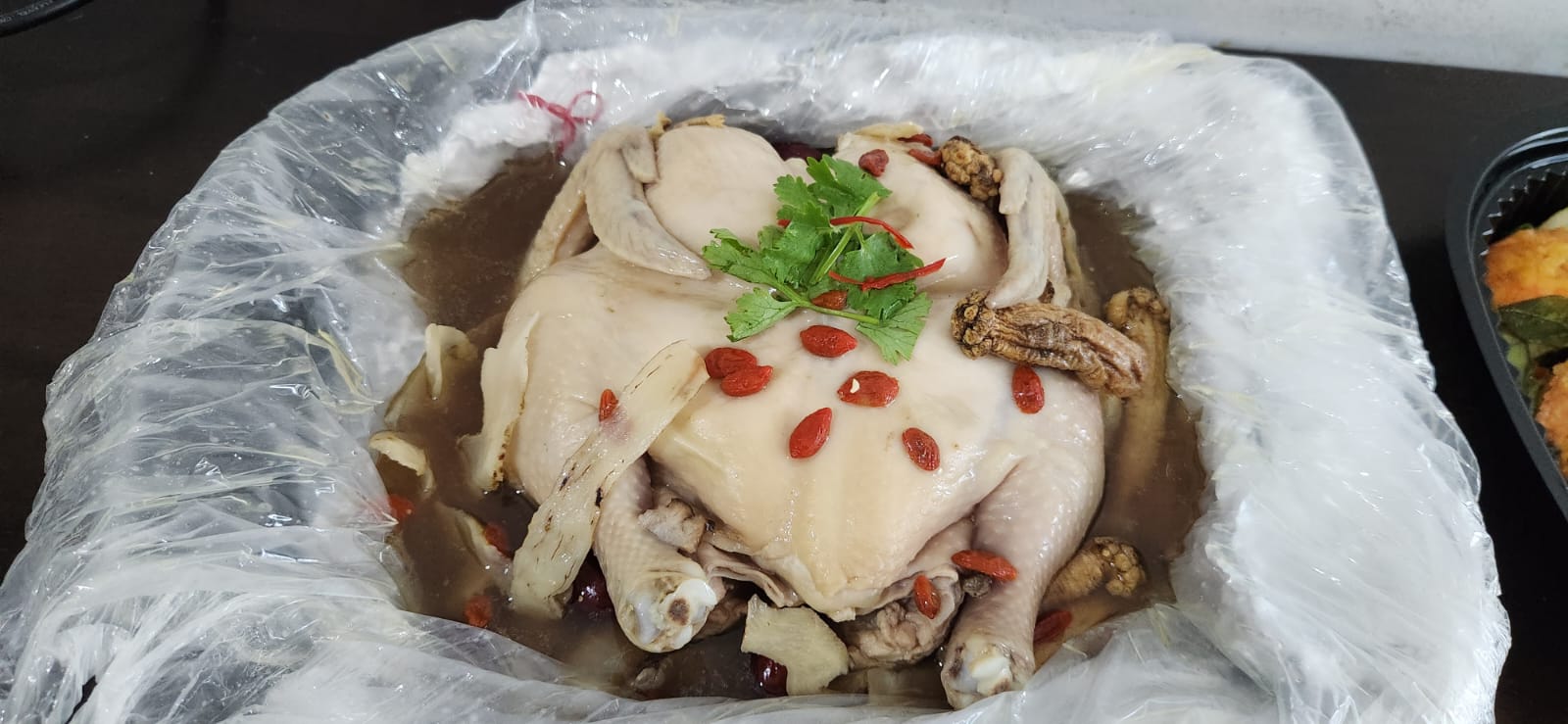 The meat was so off-the-bone tender, I literally pulled a bone out. The truffle oil really added a new depth to the flavour that made my mother love it even more, although if you hate truffle, you might find it a tad strong.
Next: Slow Cooked Salmon Trout with Orange Flavour Hollandaise.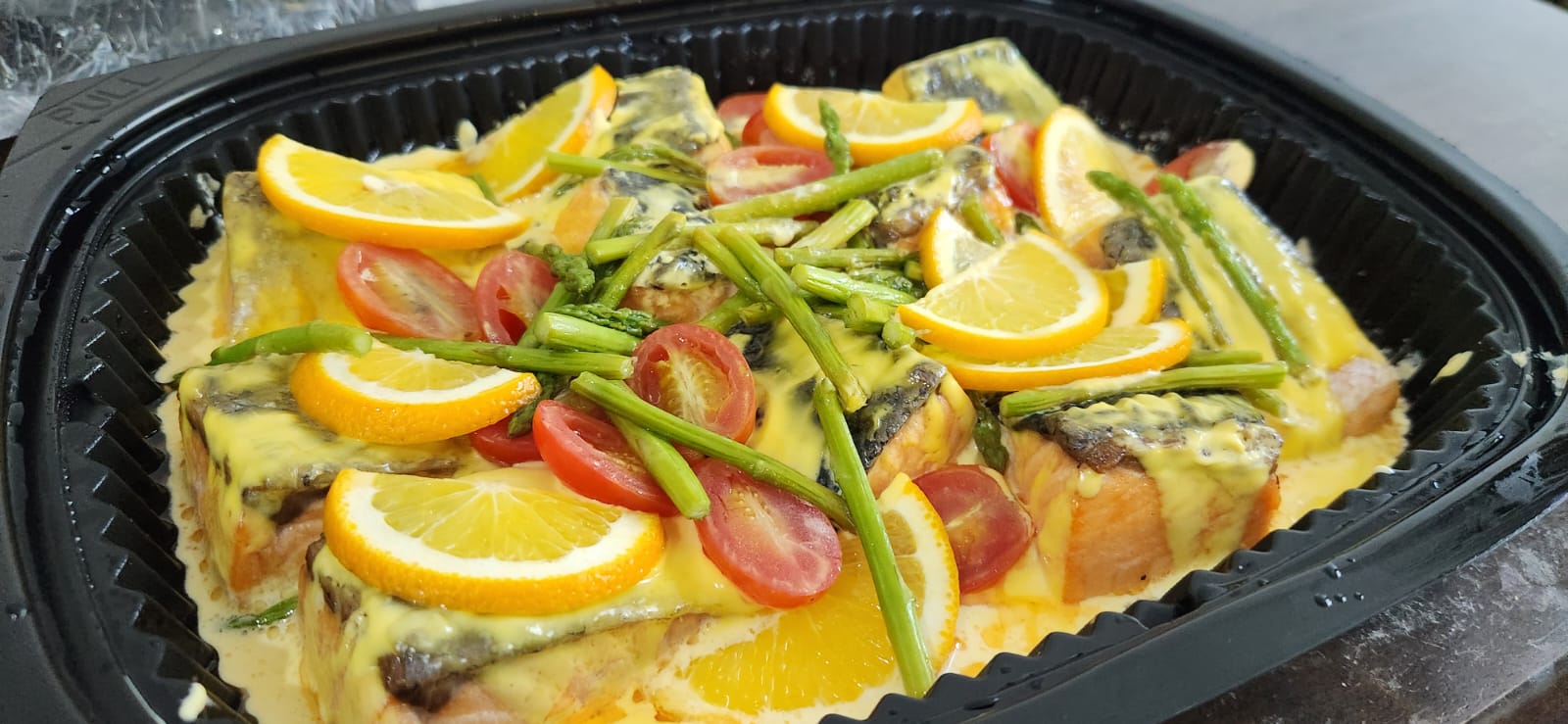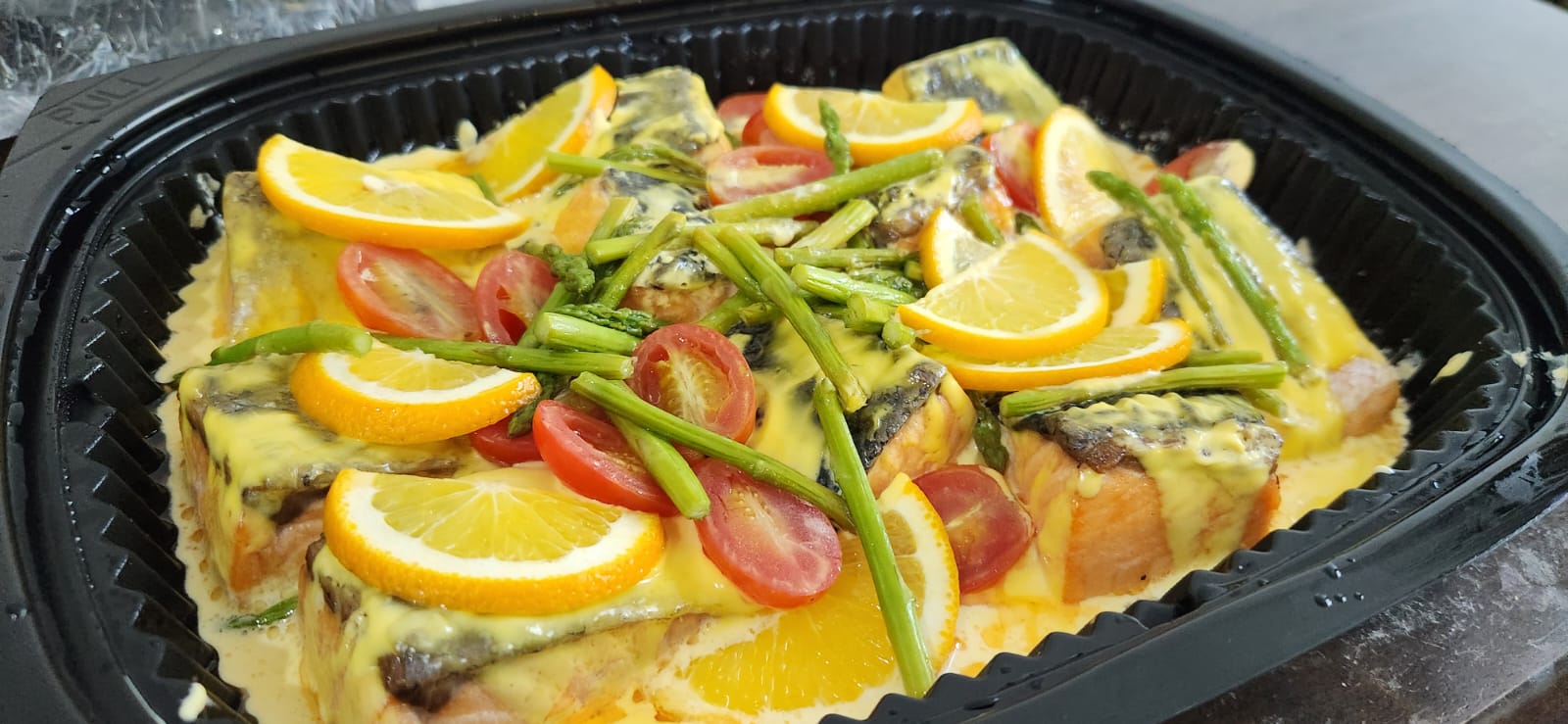 Self-proclaimed salmon-addict here, and let's just say the sauce was phenomenal. Never would I have imagined orange pairing well with salmon, so I was pleasantly surprised by how much I love the orange-flavoured Hollandaise.
Next: Superior Seafood with Ginseng and Chicken Essence (Upper Left), Eight Treasure Lotus Leaf Rice Wrap (Upper Right), Ying Yang Hong Kong Kai Lan Golden Spiced Silver Fish (Bottom Left), Deep Fried Lobster Ball with SG Chilli Crab Sauce (Bottom Right)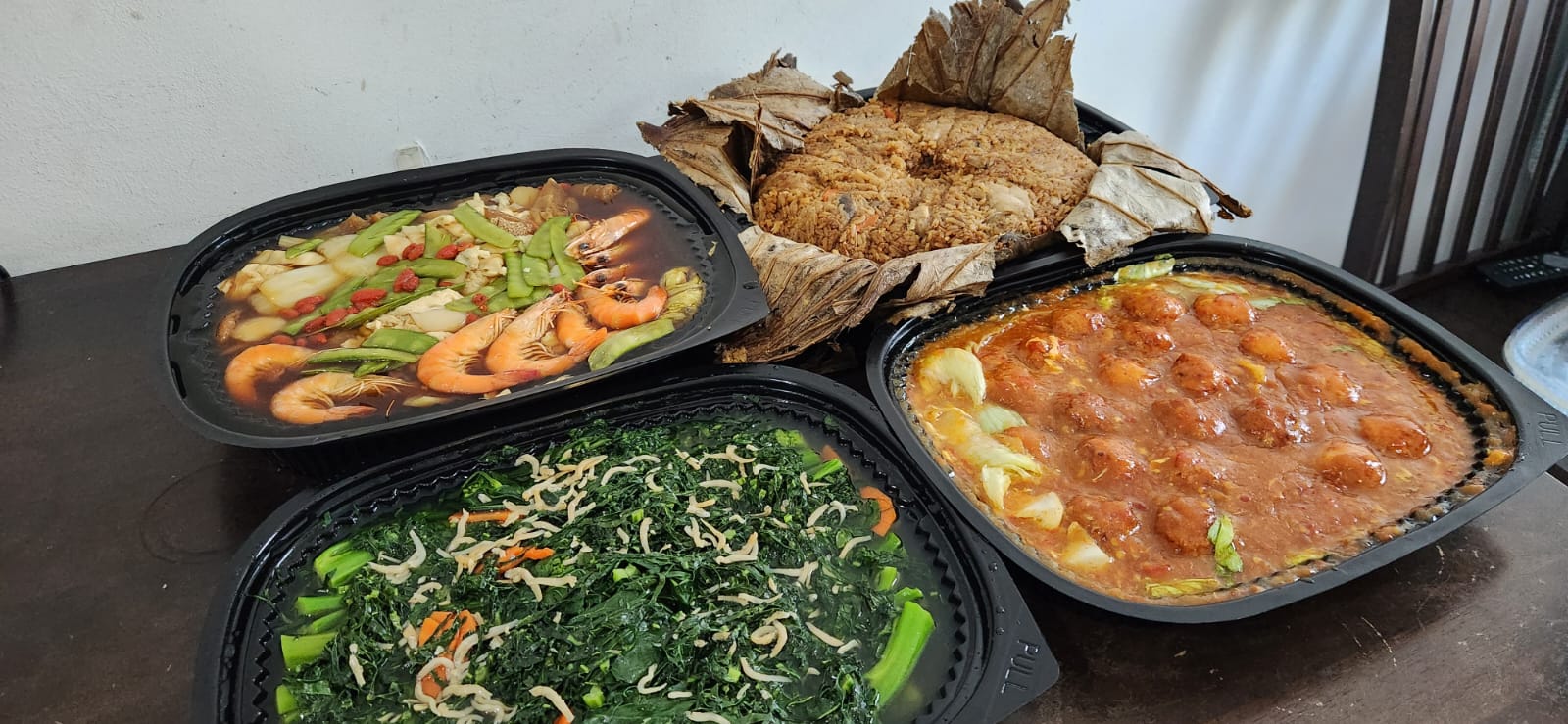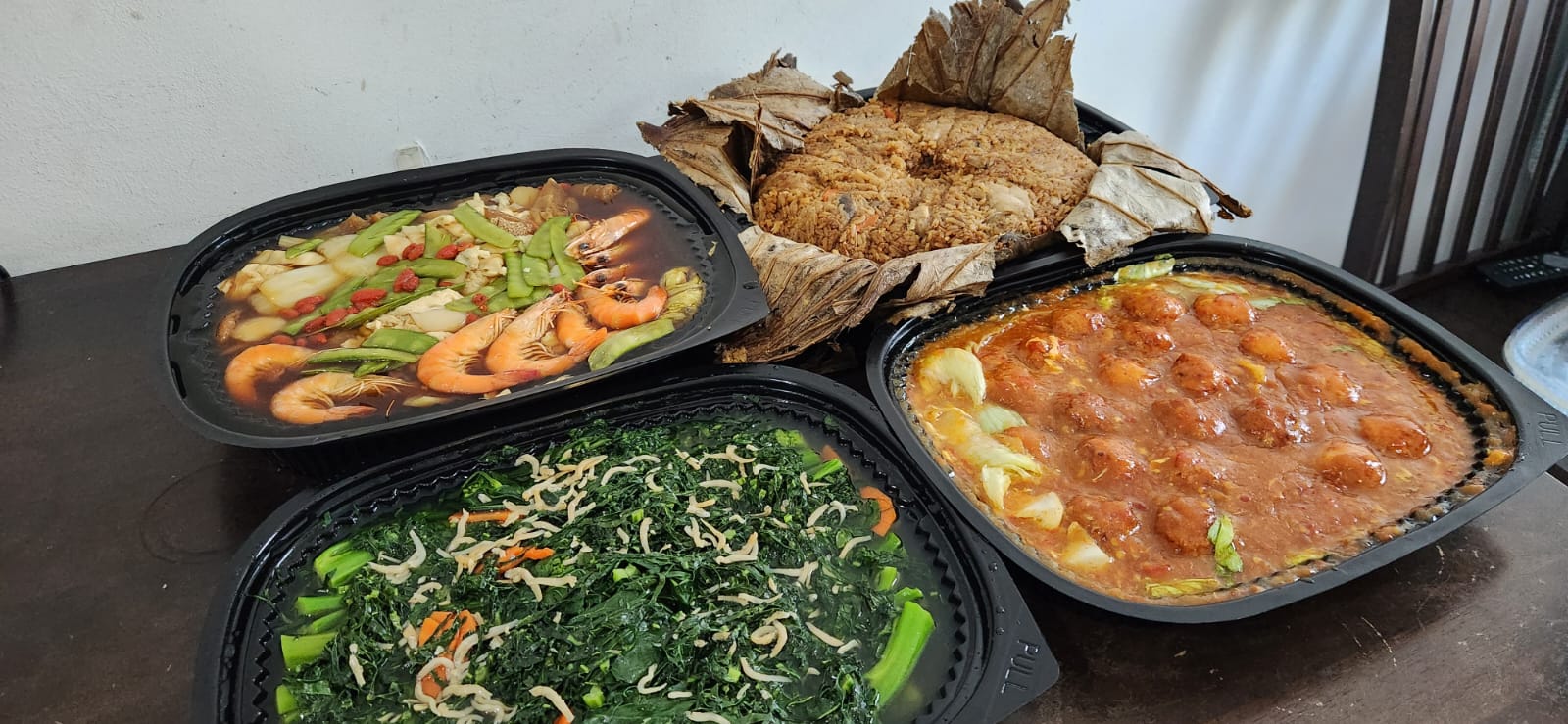 The following few dishes are Chinese classics with familiar twists that don't stray away from local flavours. The chilli crab sauce was deliciously spicy, with the right amount of spice to not burn the taste buds.
(Fun fact: we kept the leftover chilli crab sauce and bought some mantou the next day for our afternoon snack)
Next: Pumpkin Salted Egg Prawn.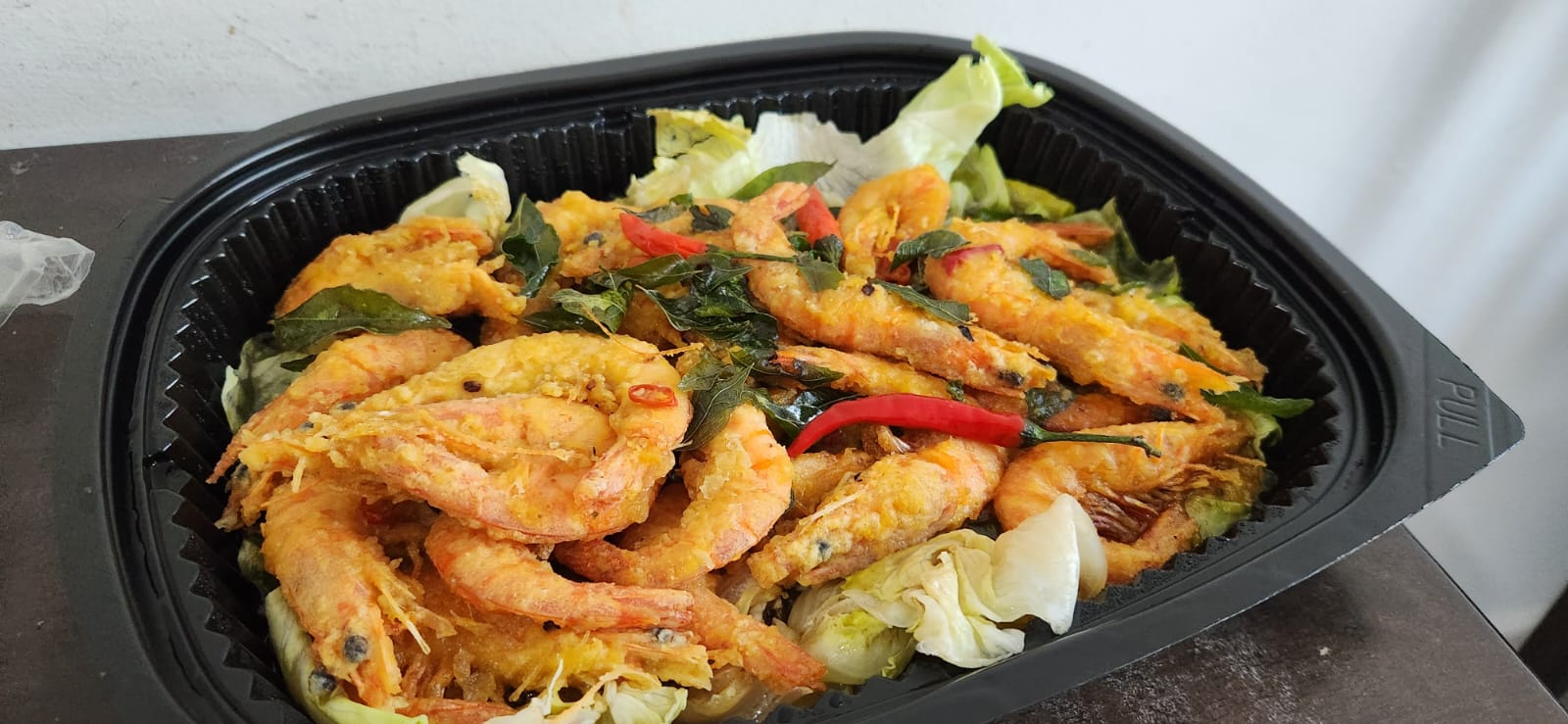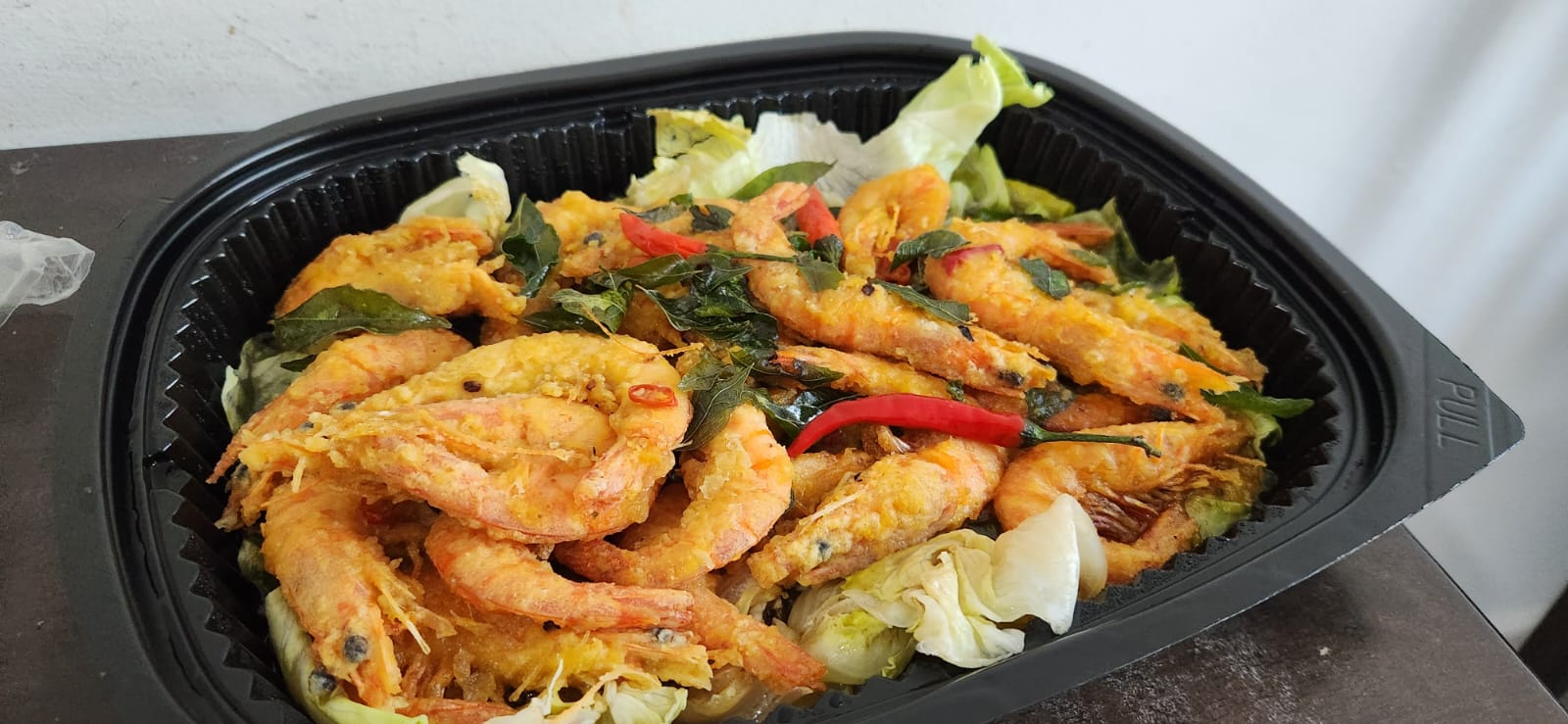 It adds an earthly, flavourful and a creative twist to the usual staple flavour.
Pro tip: For that extra kick,  use the chilli crab sauce as a dip for your prawn!
One complaint is that we have to peel the prawns ourselves, but with a mother around, you should know what happened *winks*.
To end the meal, we finished it off with Chilled Pu Er Tea with dried Logan, Gongko Nuts and Honey Peach Collagen Dessert.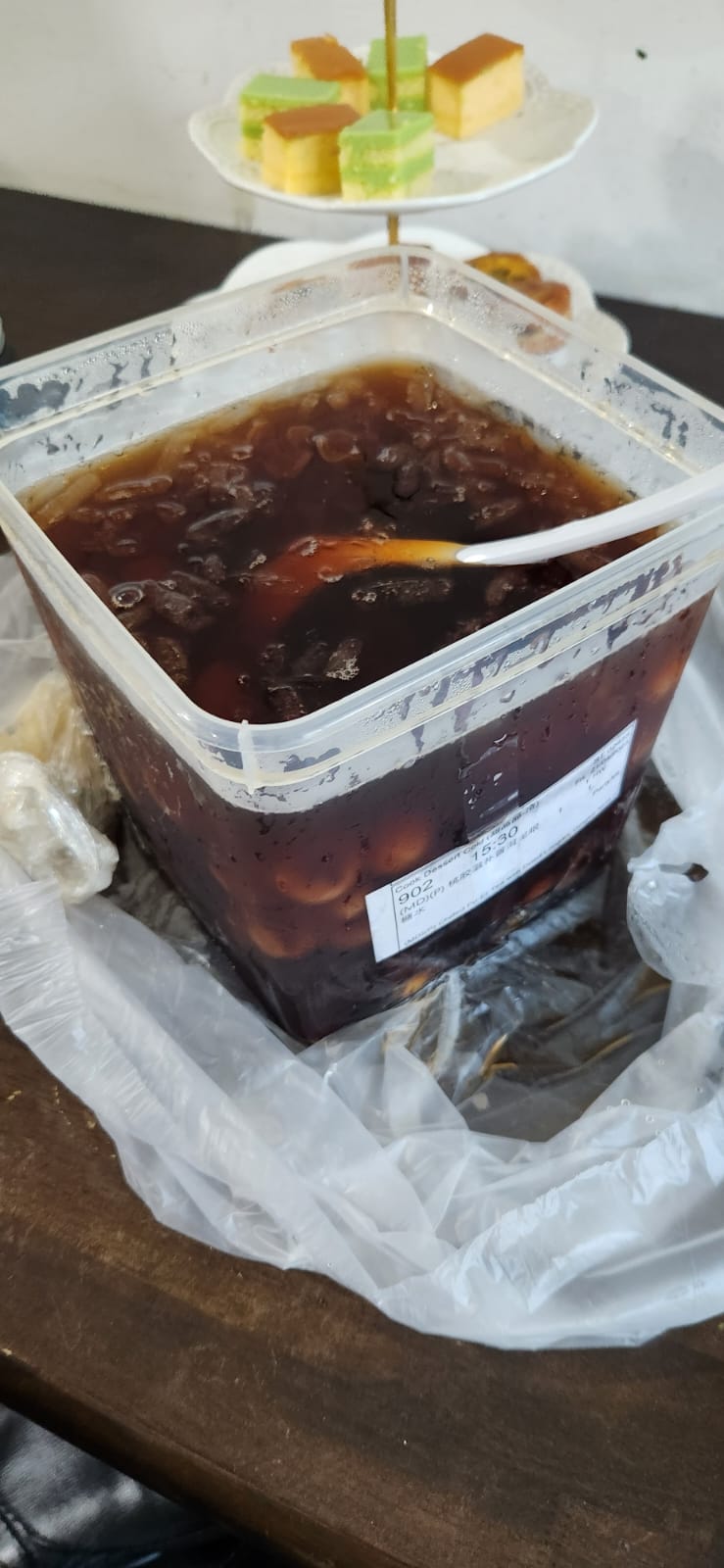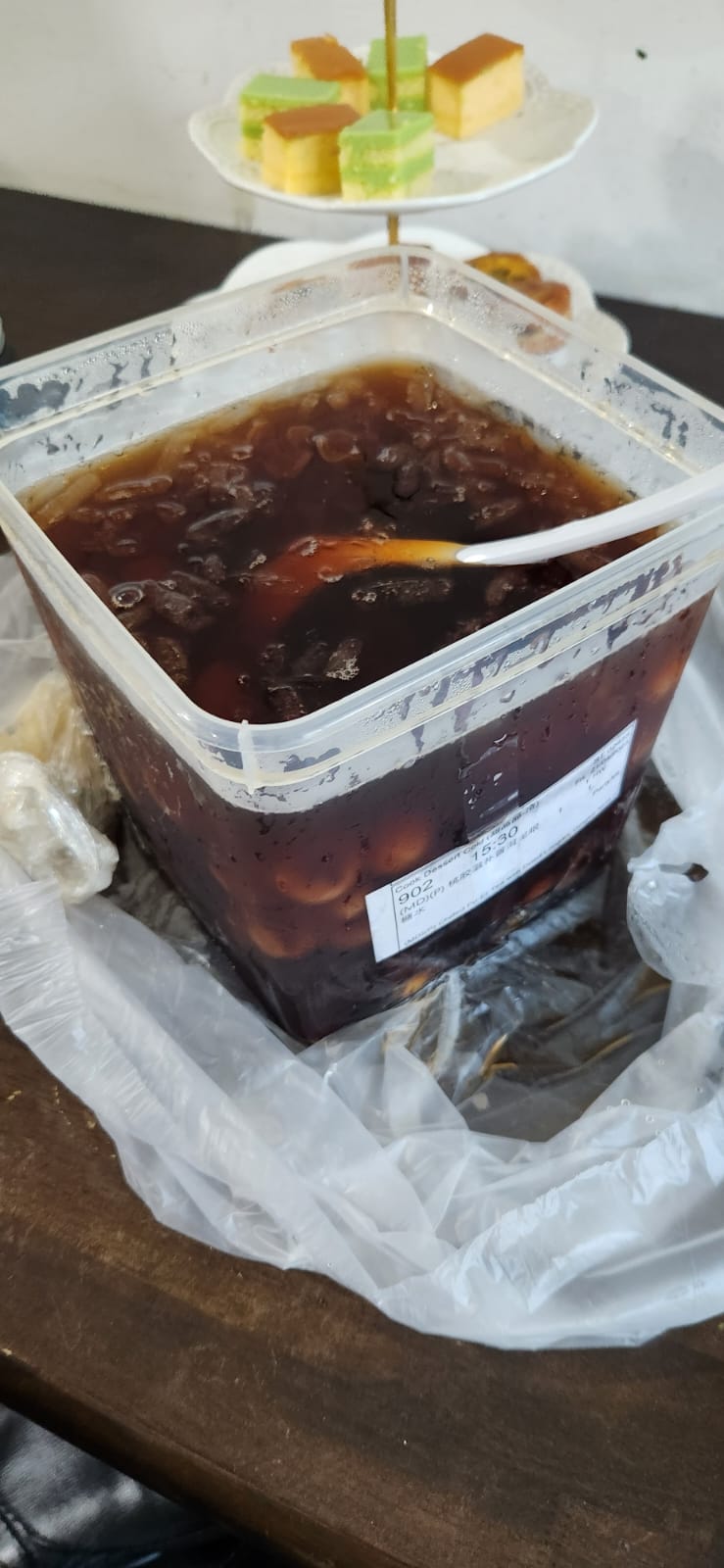 Well-balanced, not too sweet and refreshing, this dessert is packed with health benefits and is definitely perfect for the young and old alike. My mum loves this so much so that I might have to figure out where I can buy this as a standalone.
But wait.
Desserts don't just end there.
For this Mother's Day, Stamford Catering will be gifting a complimentary 3-tier dessert stand with a selection of assorted high-tea delights to the first 100 customers ordering from their Mother's Day Menus.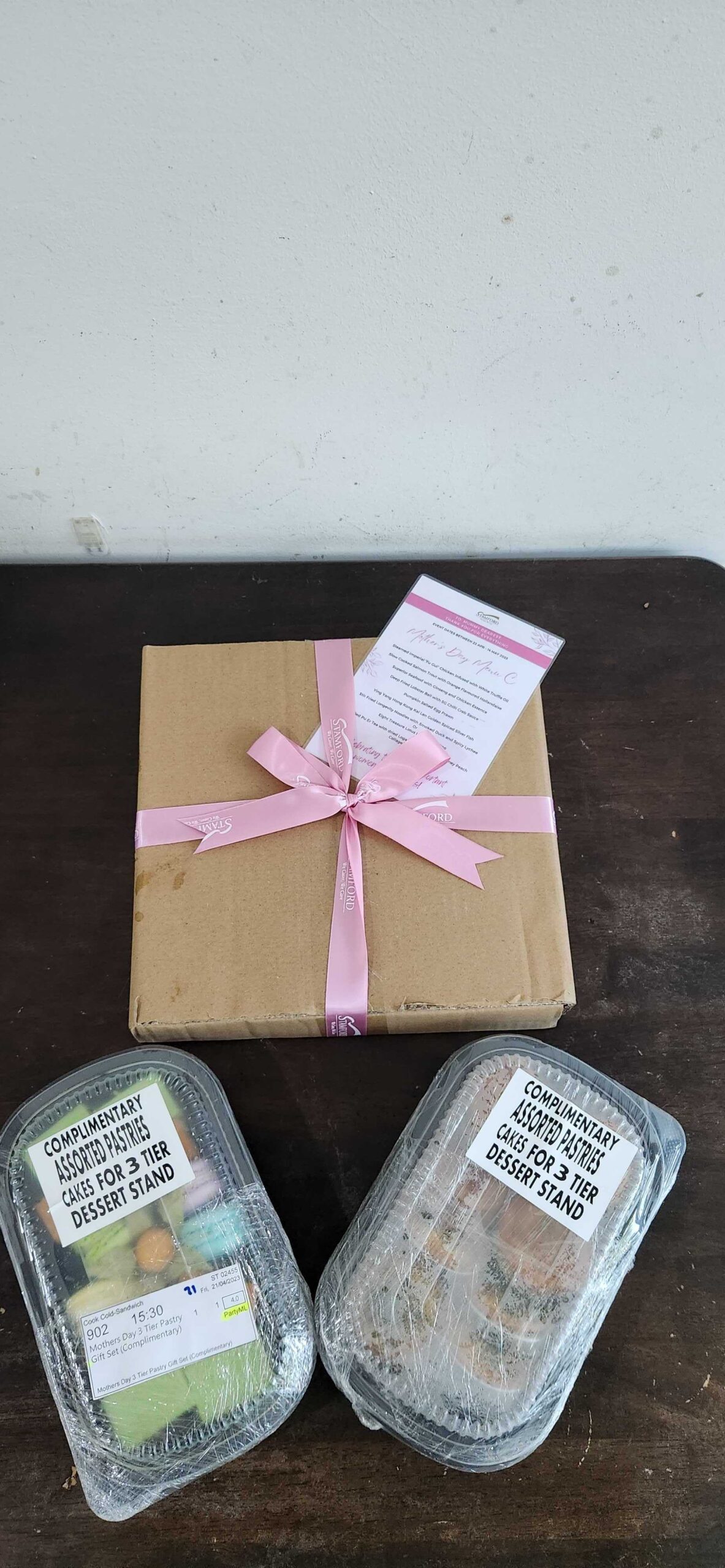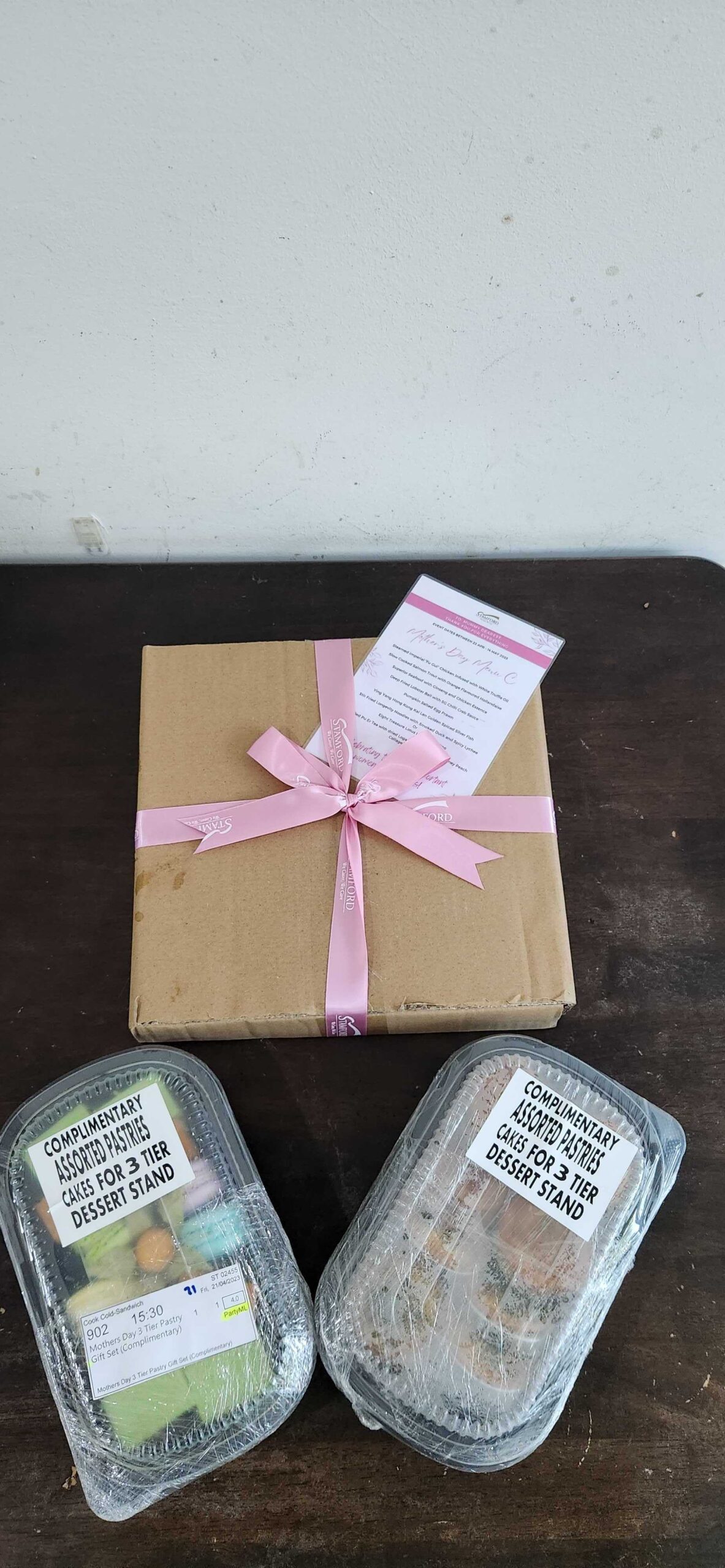 Do note that the desserts come deconstructed, so some effort is needed to assemble everything. Don't worry; Stamford has made sure the progress is simple enough that you don't need to be bursting out with IKEA-solving skills.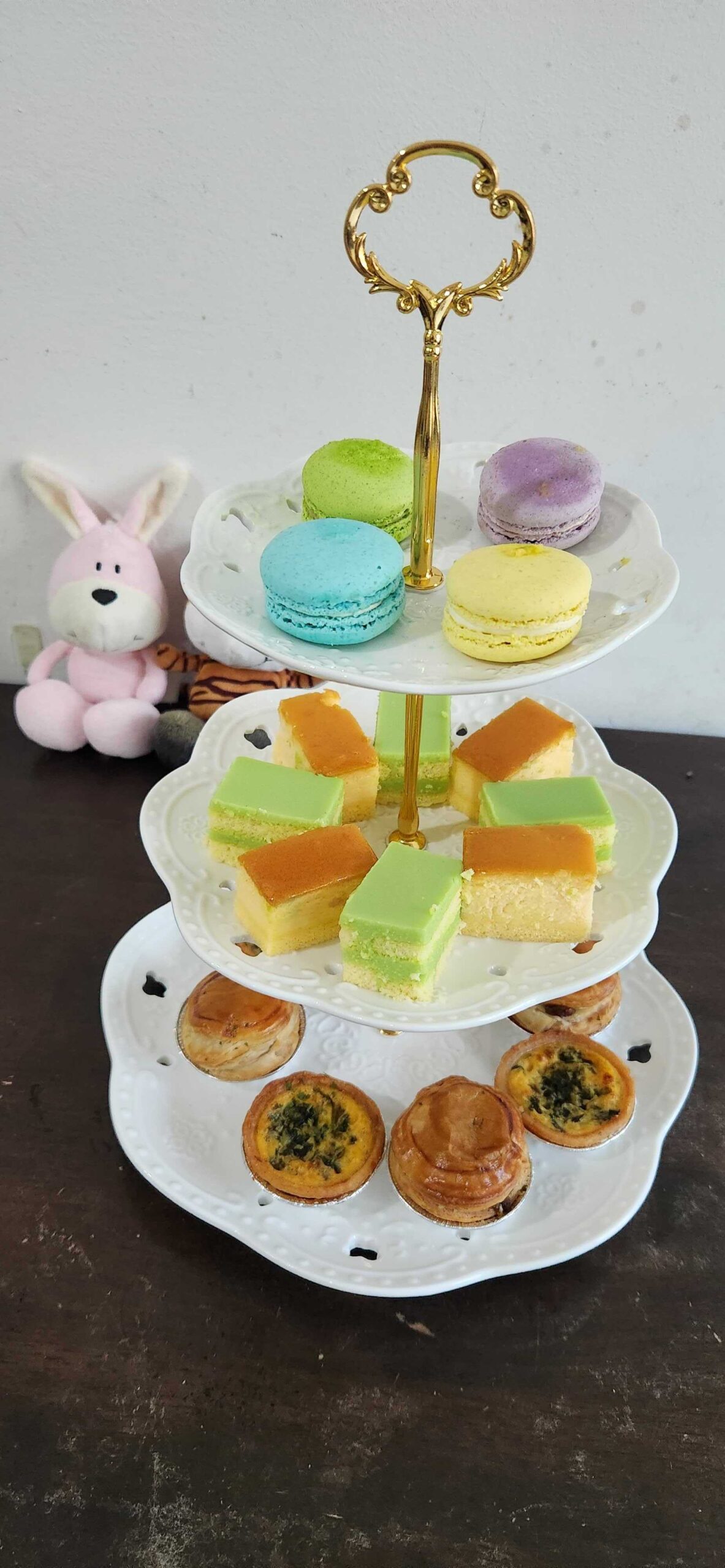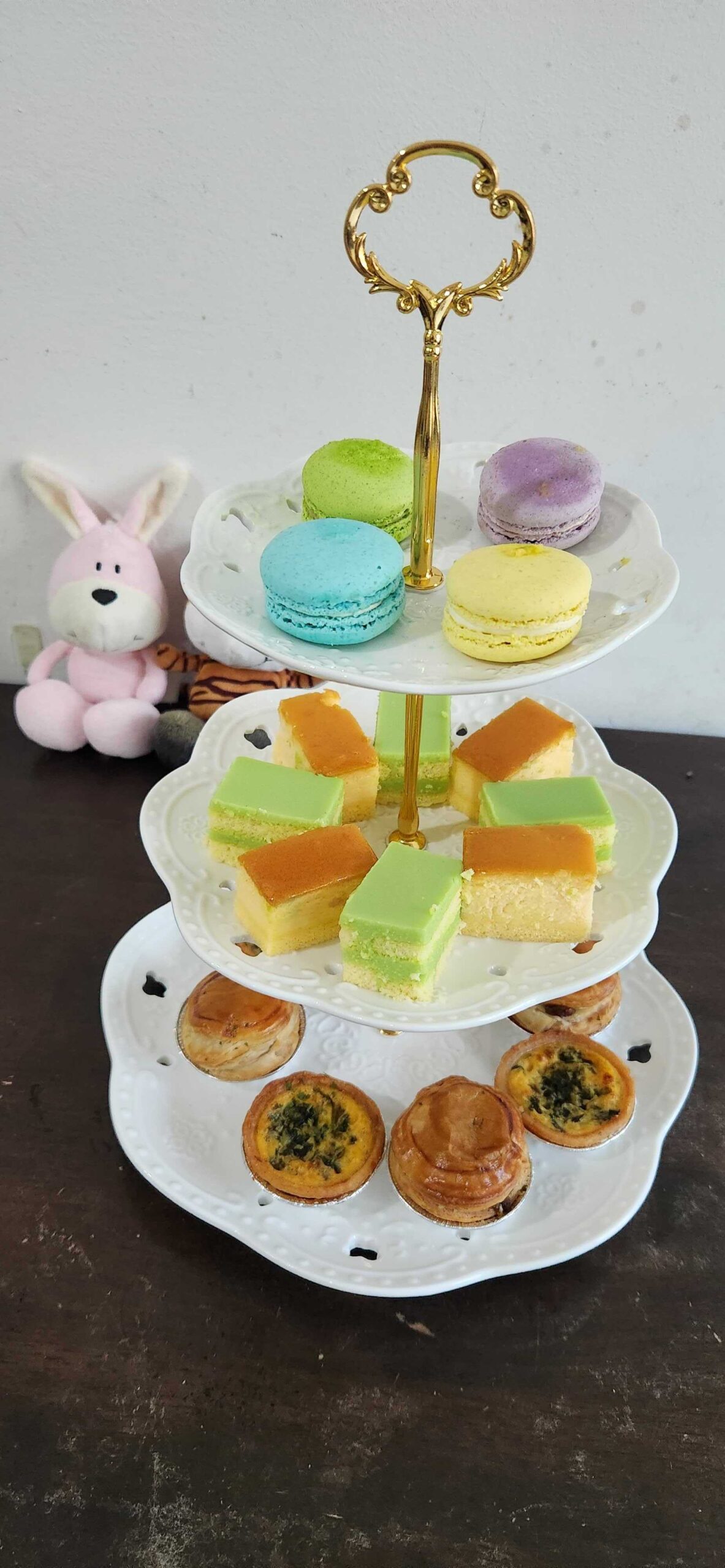 Each tier suits people with different taste buds, from macaroons for the modern sweet tooth to some traditional cakes for the old souls' taste buds.
My only complaint is that it might not be enough for everyone, but here's the solution: for the younger ones, just let them feed their Instagram instead.
Book Your Orders Today
Overall, the meal was, again, unforgettable, but honestly, the best part is that we won't need to Grab to a restaurant, so we can have everything at the comfort of our own home. Since all cutleries are provided, we don't need to do the dishes, too.
The feedback from my mother?
"Celebrate at home easy lah, don't need wait and don't need rush."
Pretty sure she was comparing the "rush" part to the recent CNY reunion dinner we had a few months back, but we get the idea: the convenience is definitely something that has convinced me to cater for a celebration for Father's Day, too.
Stamford Catering Services
Being a leading Halal-certified caterer with over 20 years of experience, Stamford Catering Services definitely knows the trade well and has a proven track record of its great quality of service, having catered for major events such as the 28th SEA Games, inaugural Youth Olympics Games, StanChart Marathon, OCBC Cycle and many more.
Stamford Catering's Mother's Day 2023 menus are available to order now for functions between 22 April to 14 May 2023 via Stamfordcs.com.sg.
Make sure to order fast for your free desserts, and Happy Mother's Day to all the wonderful mothers out there!
And oh, pro tip: don't let your mother know how much it cost. It's not about the the amount, but the fact that you're paying for it that breaks her heart.
Here's a little something for Goody Feed readers: if you are intending to order from other menus for events between 6 May 2023 to 14 May 2023 to celebrate Mother's Day, do indicate "Mother's Day Celebration" in the remarks box of the online order form to receive a surprise gift.
Once again, make your order here!
This article was first published on Goody Feed and written in collaboration with Stamford Catering Services.