Singaporeans are big fans of saving money.
What if there was a way to enjoy greater cost savings when buying Singtel product bundles?
Singtel has the perfect solution for you.
Singtel Releases Singtel Super Stacker
Singtel recently released new product bundle offerings to help multi-device tech-savvy people share services and enjoy greater cost savings.
It even has a catchy name: Singtel Super Stacker (SSS).
The new bundle includes a Mobile Stack, Protect Stack, Broadband Stack and Entertainment Stack.
Essentially, SSS consists of everything you would need.
Singtel Super Stacker allows customers to pool mobile data, talk time and other services for sharing to enjoy extra value across telco services, saving up to 30%.
Behind the Creation of SSS
Singtel created SSS following a review of its customer subscriptions.
It found that consumers, especially youngsters and tech-savvy people, were increasing the number of smart devices used and were consuming more data in one .
Since sharing is caring, Singtel realised that creating customisable bundles would help support these changing lifestyles.
With SSS, customers can share double the data, talk time, and SMS across three mobile lines.
It's so flexible that it caters to families, young couples and friends, ensuring everyone's preferences are met.
If you're like me and have no friends, SSS also caters to individual power users of multiple devices. Don't worry, I'm not judging.
SSS not only helps you save but is of great value as well.
It truly puts the "super" in SSS.
How to Build your SSS Bundle
Customisation and flexibility are enticing, but how can you build your own SSS bundle?
Firstly, customers can start enjoying the benefits of SSS with a 5G mobile line.
Building a SSS bundle is easy for new or re-contracting customers with an eligible 5G XO Plus or SIM Only Plus mobile plan.
In fact, it only requires two steps:
Add the Mobile Stack to an eligible 5G base plan at $29.90/month (U.P. $39.90/month) and get double the data, SMS, and talk time, which can be shared among the three users (or three devices…if you're lonely like me)Choose from any or all of their other Stacks: Protect, Broadband or Entertainment Stack to unlock more value and savings
Yes, it's really that easy.
Overview of SSS Benefits
Customers who sign up for the new bundle can look forward to a wide array of benefits (depending on the Stack you built):
Protection for their family of mobile devices, including accidental damage, loss of device, and malfunctionsBroadband plans with an additional complimentary Wi-Fi 6 Mesh device6 months free Entertainment apps from Cast.sgA free one-year Singtel RED membership, handset vouchers, discounts (till 31 Mar '23)
Terms & Conditions apply.
Mobile Stack
With the new Mobile Stack on XO Plus 92 or Sim Only Plus 55 & above 5G plan, get two additional 5G lines and unlock double the data, talk time and SMSes to share with your friends or family.
The Mobile Stack is made even sweeter with a free one-year Singtel Red membership, priority invitations for phone launches, $120 worth of vouchers, and curated perks from over 100 dining, wellness and lifestyle merchants (till 31 Mar '23)
As a launch special, customers who opt for a XO Plus 92 & above plan will receive an additional $100 device voucher.
Protect Stack
Most of us have butter fingers and tend to drop our phones.
With the Protect Stack, you can protect your family of devices from accidental damage, theft or malfunctions.
To top it all off, get the newly launched MobileSwop Family for three devices at a special price, enjoy unlimited swops for 3 devices*, 1 replacement on your main device every 12 months, and free tech assist!
Also, get unlimited repairs across all brands!
Customers will enjoy an additional $150 device discount and $20 Takashimaya vouchers* when they sign up for the stack to celebrate the launch.
*Promotion starts from 25 March 23, at any Singtel Shop or Singtel Exclusive Retailer, while stocks last.
Broadband Stack
Have you ever gotten frustrated over lousy internet connection?
Singtel WiFi-6 devices ensure everyone can get optimum connectivity.
Yes, even with numerous connected devices.
With the Broadband Stack, you can get an additional FREE WiFi-6 mesh worth over $240 with all eligible broadband plans.
Entertainment Stack
With the Entertainment Stack, SSS users can select various apps on Cast.sg, home to all their entertainment needs.
Users also receive a second music or news app for FREE for six months without a contract.
Overwhelmed by the stack choices? Here's everything you need to know summarised into an easy-to-read table: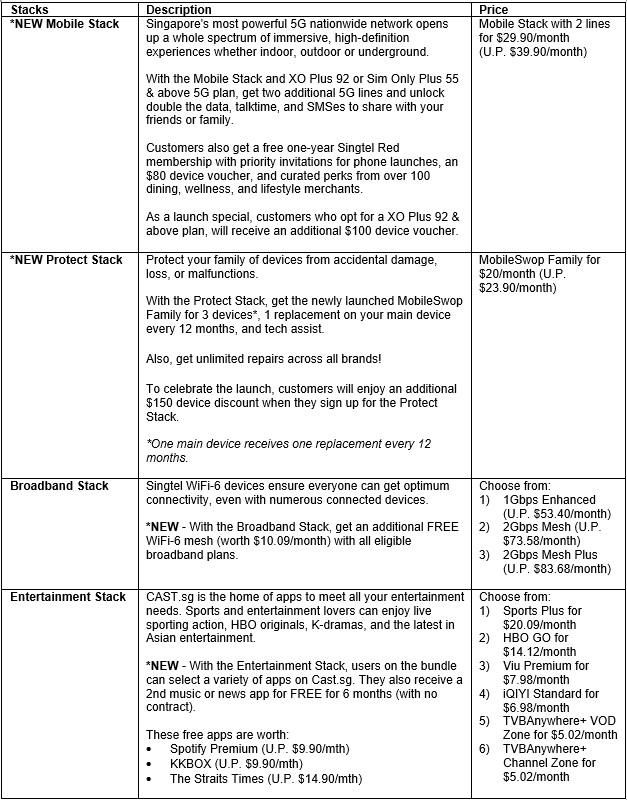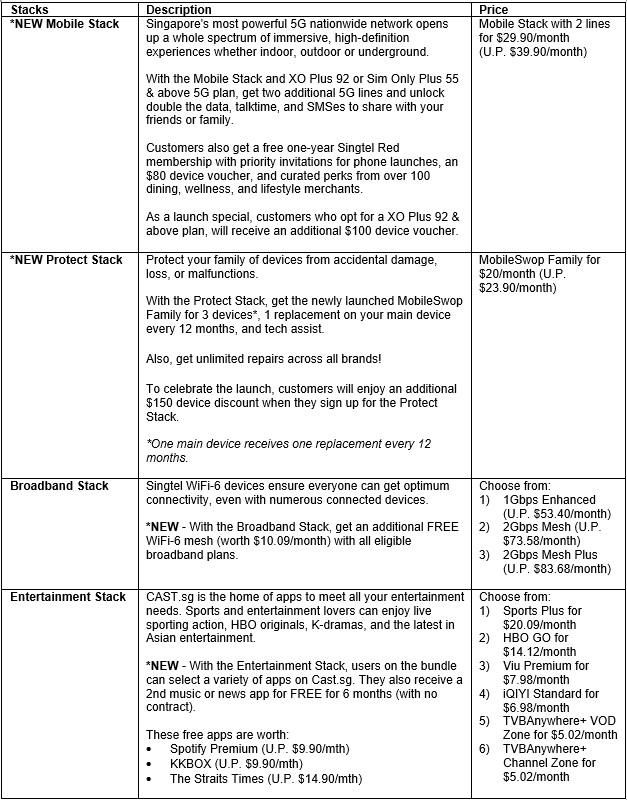 How Do Your Savings Stack Up?
You can enjoy 30% savings on your mobile lines.
With SSS, you would get more than $1,000 value a year.
If you stack more, you save more.
What a steal.
Get SSS Today
SSS is the perfect bundle for a Singaporean to purchase.
After all, we're all pretty kiasu, and to be a kiasu king or queen, we need to be savvy—and know all the deals that are available.
Thus, SSS is the savvier way to bundle.
It is entirely up to you to combine the services based on what you like, giving you the freedom to stack and save based on your preferences.
You and your friends and family not only get to enjoy extra value to share, but still get to save some money.
SSS is truly a win-win situation.
If you are interested in stacking and saving with Singtel, click here to find out more.
This article was first published on Goody Feed and written in collaboration with Singtel.