Free Ink, e-Vouchers & Discounts From HP
Are you looking for a convenient, cost-effective way to get your printer ink? We have just the deal for you.
Singaporeans' go-to for all things printing, HP, is now having a promotion just for you—the HP Instant Ink subscription.
The convenience has been receiving rave reviews; for example, someone said that she's glad that there's "someone" to "keep track of the ink level for us," and another said the service ensured we don't "have to worry about wasting your paper/ink with product half printed due to lack of ink!"
Interested? Read on.
Here's how you can print easier and earn three months' worth of free ink while at it.
The More Convenient and Cost-Effective Way to Print
We all know what a hassle printing can be—from the exorbitant prices to having to take time out of your day to head out and buy a new ink cartridge whenever your printer's out of ink, it's not an enjoyable experience.
Fortunately, HP has got your back. With the HP Instant Ink subscription plan, you can say goodbye to all your printing troubles.
The HP Instant Ink subscription plan is the busy and savvy Singaporean's solution to printing. It's self-explanatory—when HP says instant ink, they mean it.
When you subscribe to HP Instant Ink, you no longer have to deal with the "shag bro" experience of discovering that your printer's out of ink just when you have urgent printing needs (it always happens).
Here's how it works: With HP Instant Ink, whenever your printer runs low on ink, it'll automatically notify HP, and HP will ship ink to you.
You'll always have ink, whenever you need it.
The best thing is this: You get to save money while at it.
With an HP Instant Ink subscription, you can save up to 50% on ink—subscription plans for HP Instant Ink start from a mere $1.90/month, covering ink, shipping, and prepaid recycling.
You can even vary your subscription plan depending on your needs!
How to Get Started With HP Instant Ink
Intrigued yet? Here's how you can start printing better with HP (without even thinking about it).
For starters, you'll need an HP Instant Ink printer—if you already have one, good for you. However, if you don't own one yet, it's time to get one.
You can choose from eight different models with prices starting from $69.
But that's not all. There are ongoing promotions for these HP Instant Ink printers, meaning you can get a high-performing and versatile printer for prices as low as $69. This price can even be further reduced by 6% if you use the code PRINT6 on the HP online store!
To top it all off, you can get up to $50 worth of free e-vouchers when you purchase an HP Instant Ink printer.
What's not to love?
You can go to your nearest Challenger store to buy one now or simply purchase one from the HP site.
Now that you've got your HP Instant Ink printer, all you'll have to do is pick a plan for the HP Instant Ink subscription suited to your printing needs.
The available HP Instant Ink subscription plans are as follows: –
Up to 10 pages/month for $1.90/monthUp to 50 pages/month for $5.90/monthUp to 100 pages/month for $8.90/monthUp to 300 pages/month for $17.90/monthUp to 700 pages/month for $36.90/month
And under the HP Instant Ink subscription, you can always print in colour—black and colour cartridges are included in your subscription for the same price!
Sign up for the Instant Ink subscription plan here, sit back, and enjoy affordable, hassle-free printing.
If that's not enough to entice you, wait till you hear this—you can even get free ink.
With the purchase of an HP Instant Ink printer or Instant Ink subscription, HP will give you three months' worth of free ink, allowing you to print up to 4,500 pages. That's on top of the free e-vouchers (up to $50) for your purchase of HP Instant Ink printers.
Signing up for the HP Instant Ink subscription using your credit card will also get you another $10 worth of e-vouchers within 14 days after printer purchase. 
These e-vouchers can be redeemed with a few simple steps on HP's website, and you can subsequently exchange them for vouchers from the following grocery and department stores:
7-ElevenCold StorageGiantGrabmartIsetan RedmartScoop WholefoodsSheng SiongTangs
Shiok. So, if you're trying to impress anyone, be it your boss, partner, or friends, you should recommend that they get in on HP's deals.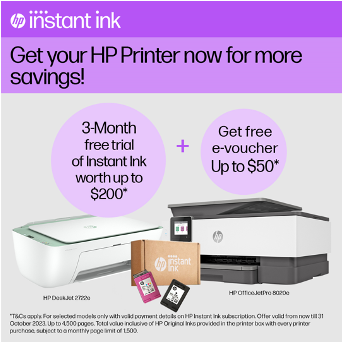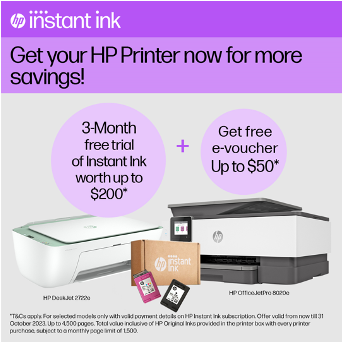 The Benefits of Using HP Instant Ink
You might be thinking: Wah… Good lobang, but what if I cannot maximise my use of the Instant Ink subscription plan? Waste money sia.
Well, fret not—HP's got your back here as well.
With HP Instant Ink, you get to be in control of everything.
Have unused pages? These will be rolled over for you to use when there comes a month when, say, your kid suddenly has to print a 100-page report—ink plans can roll over up to three times the number of pages in your plan.
Promoted at work and suddenly need to print more? You can change your subscription plan to ensure you reap maximum savings.
Need to monitor your ink usage or track your cartridge shipments? HP has a mobile app and other online tools for these.
Wife wants you to stop printing so much so you can save the environment? Cancel your plan anytime online.
In any event, you could always tell your wife about how environmentally friendly HP Instant Ink is lah. When HP sends over your ink cartridges, prepaid envelopes are also provided for you to recycle your used cartridges with HP.
As they always say: happy wife, happy life.
With over 5,000 five-star reviews of HP Instant Ink, you can trust that HP Instant Ink is worth it.
So, what are you waiting for? Get in on the HP lobang now before the offer lapses and kickstart a life of hassle-free printing!
You can find out more about HP on their Facebook page.
This article was first published on Goody Feed and written in collaboration with HP.