---
s
---
Changi Festive Village 2023 is Here
Stranded in Singapore for the holidays and yearning for a change from the annual Orchard light-up?
Couldn't take your annual leave to travel outside of Singapore this holiday season?
Look no further—Changi Festive Village is your destination for holiday cheer!
No, not Changi Village, but Changi Festive Village.


Changi Festive Village has officially opened its doors on 4 Nov at Terminal 3, offering a plethora of seasonal delights until 31 March next year.
Here are all the details you need regarding Changi Festive Village at one glance:
Candy Carnival: A Magical Indoor Amusement Park
Immerse yourself in the Candy Carnival, an indoor amusement wonderland reminiscent of South Korea's Lotte World, but right here at Changi Airport.
Featuring an array of carnival games and rides, you could win enticing candy-themed prizes.
Discover most attractions on Basement 2 near Kopitiam or on Level 1 by McDonald's.
Candy Ferris Wheel
Experience the Candy Ferris Wheel as tall as seven metres, where you can enjoy a spin indoors while seated in whimsical cupcake gondolas.
---
s
---
Candy-Go-Round
Or perhaps, the Candy-go-round is more to your taste, offering a merry-go-round amidst a sugary fantasy.
Candy-Themed Pirate Ship & More Prizes
Adventurous souls can embark on the Candy-Themed Pirate Ship.
And the brave can try their luck at claw machines and other carnival games like VR shooting games, potentially walking away with exclusive confectionery-themed loot, including giant Disney plushies.
Classic Carnival Food… Sweet!
Feast on carnival classics like nachos, corndogs, and Korean cheese coin pancakes without setting foot outside Singapore.
Candy Kart
Then, burn off the calories at the Candy Go-kart course, set against a backdrop of favorite desserts, from ice cream to donuts.
Participants must adhere to safety requirements, including tight clothing and covered shoes, and meet the height and age criteria of at least 1.1 metres and five years old, respectively.
Candy Bounce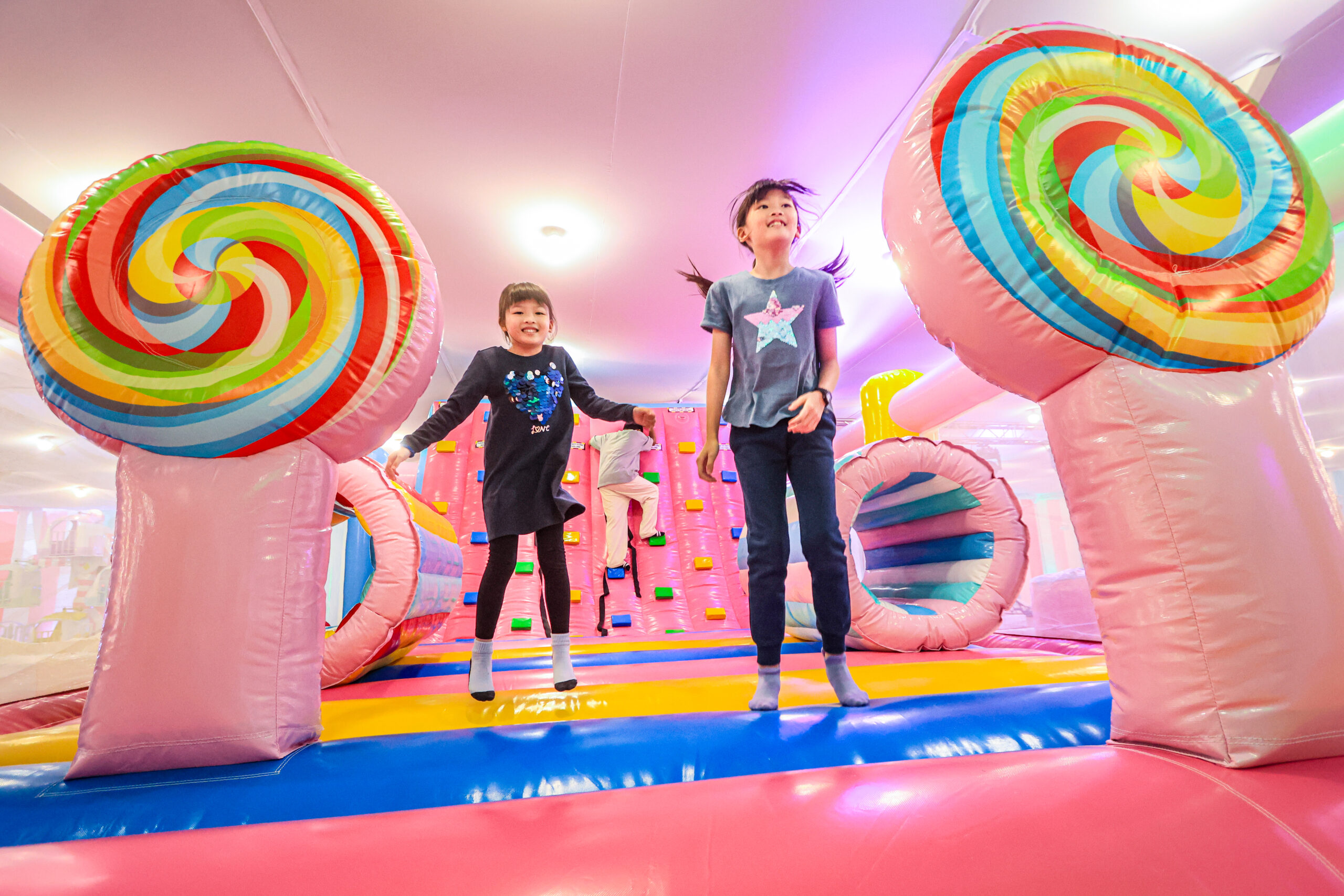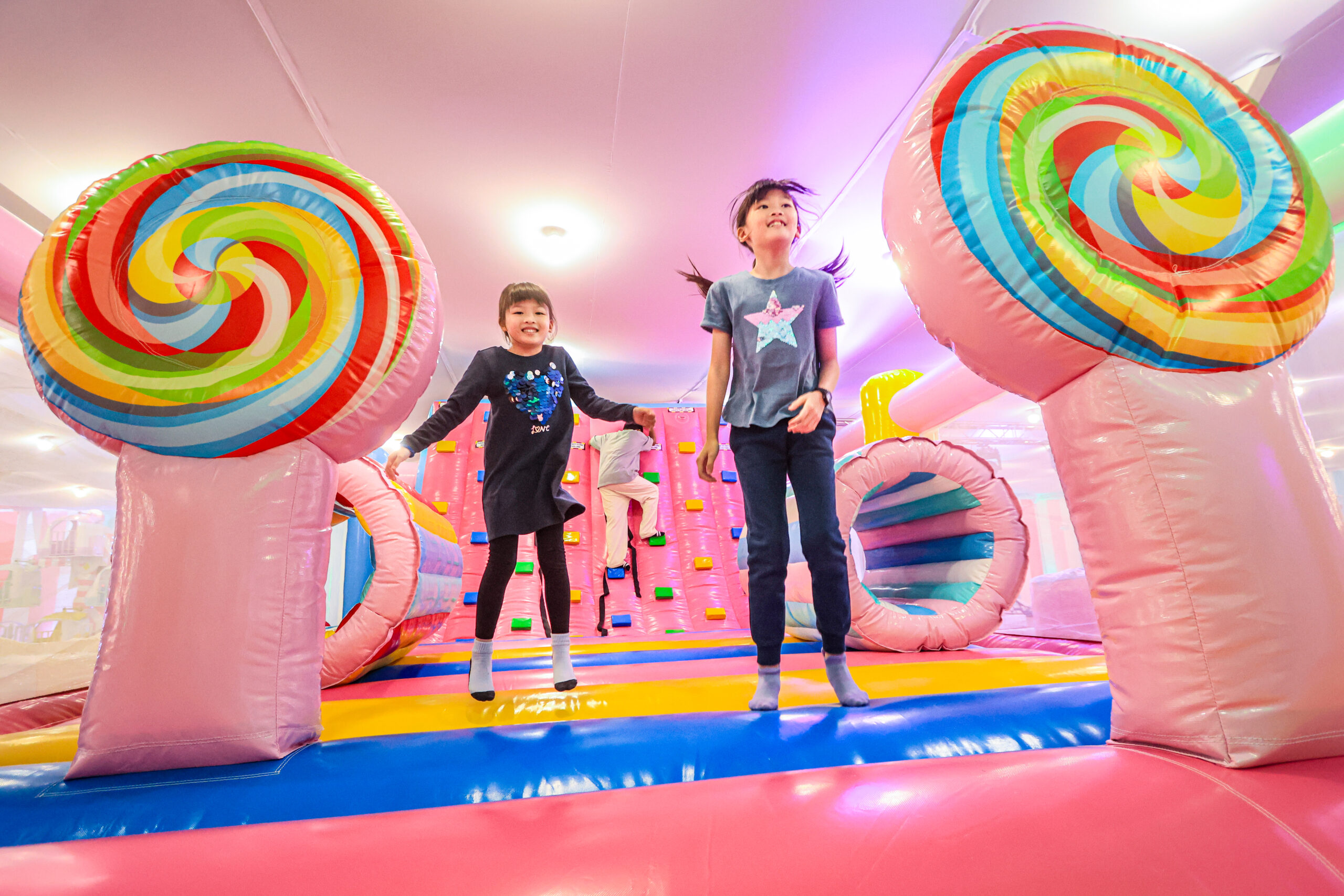 For the little ones, Candy Bounce offers a bouncy castle paradise, an inflatable dessert fortress where children aged 4 and up can jump to their heart's content. Remember to bring non-slip socks!
The Real White Christmas: Candy Snow House
Indulge in a White Christmas at the Candy Snow House, where you'll find stunning ice sculptures and real snowfall every half hour.
Don't worry about the cold—winter jackets and boots are available for borrowing.
---
s
---
The snow house promises thrilling three-lane slides, sleigh rides for toddlers, snow scooters for the older kids, and an assortment of snow games, including bowling and mini-golf on ice.
Trousers and socks are a must, but waterproof pants and gloves are available for rent, along with purchasable socks and other snow toys. Most of them cost around $4.50.
Check out the full prices here.
Playtime in this winter wonderland is accessible through the Candy Snow House Pass, available on the Changi App for $18 per hour, or by redeeming carnival credits.
The Magical Stayover: Candylicious Night at the Airport
For those seeking an overnight adventure, a magical 2D1N Christmas glamping experience awaits, starting from 25 Nov to 23 Dec on weekends.
Enjoy a tranquil view of the Jewel waterfall, air-conditioned comfort, and a suite of activities, all starting from $88 per adult.
---
s
---
Upon spending a minimum of S$50 or S$100 at the airport, passengers are eligible to visit Jewel or iShopChangi to acquire Changi Candy premiums starting from S$7.90.
There are five delightful items up for grab: the Packing Cube, Travel Bag, Teddy Bear, Sling Bag, and Luggage, each adding a touch of Changi charm to travelers' journeys.
Candy Wonderland
Don't miss Candy Wonderland with its towering winter bear, life-sized Gingerbread house, and dazzling light and snow show.
The free exhibit also features eye-opening performances such as jugglers, stilt walkers, a live band, and even Santa Meet & Greets.
CandyVerse
Immerse yourself in a fantastical replica of the enchanting Candy Wonderland this festive season.
---
s
---
For a limited time, guests can explore a whimsical world where sweets and prehistoric creatures abound, offering a unique adventure where the virtual and real merge.
Stand a chance to win exclusive prizes that extend beyond the screen, including a coveted limited edition UGC (User Generated Content)!
Changi Festive Village truly offers an enchanting escape—a slice of winter wonderland, just as Michael Buble serenades about.